[ad_1]

People, for fear of their lives, prefer to stay at home behind their television sets to watch games, especially on the local scene.
What happened in Kumasi on Sunday after Asante Kotoko lost at home to Berekum Chelsea is an indication that Ghanaian football fans, clubs and other stakeholders are not making a conscious effort to kick out hooliganism from our game.
READ MORE: GFA condemns shooting incident at Baba Yara Stadium
The Kumasi fans were not ready to accept the painful defeat handed them by the Berekum Chelsea lads at their backyard and blamed the match officials for the loss, subsequently pouring out their anger by hurling missiles at the security personnel.
How can we bring back the love if we continue like this?
Ghana football underwent a year and half of Normalisation. The new Ghana Football Association (GFA) in its quest to whip up enthusiasm has come up with the slogan 'Bring Back The Love'.
There have been several commentaries on ways to attract fans into the various venues to watch our domestic leagues.
And efforts to curb hooliganism is high on the agenda.
However, if after matchday 3 during the first organized league following the normalization, we witness a scene like what happened at the Baba Yara Sports Stadium on Sunday, then we have to sit up as a football-loving nation.
We have a collective responsibility as a nation to eradicate hooliganism which is a major treason why match attendances have been on the decline in domestic competitions.
Fans have a responsibility to comport themselves. Football fans should bear in mind that three results are involved in a football match – a win, a draw and a defeat and any of them is a possible outcome on a matchday.
Fans should visit the stadium with an open mind and be ready to accept any of the outcomes.
They shouldn't be prejudice towards match officials and conclude that every mistake is a deliberate effort to influence the outcome of a game. There are genuine mistakes in every game because the referees are also human.
Just as some of the finest players like Cristiano Ronaldo and Lionel Messi miss easy opportunities in front of goal when they get their bad moments, so does referees also have their bad days.
I recently watched an English Premier League game between Liverpool and Manchester United and even in the era of Video Assistant Referees (VAR), the centre referee made a contentious decision by allowing a goal to stand after a player looked to have been fouled in the process.
However, match officials have a great responsibility to reduce the human errors that emanate in games, because too many mistakes would make it seem they were deliberate.
Match officials should also be men of integrity, people of high repute who won't accept bribes or engage in acts that question their competence.
The organisers of the league should also put in place efficient measures to fish out perpetrators of violence in our game. It is very difficult for fans to demonstrate violent acts in the major European leagues because they are easily exposed by the cameras.
We can improve the coverage of our league by adding more cameras in the stadium which would help to bring notorious hooligans to book when captured.
CCTV cameras should be installed both inside and outside the stadium to capture both on and off-the-field incidents if we want to seriously deal with the subject which seems to have a never-ending solution.
Stiffer punishments should be handed to hooligans after they have been caught in the act. For instance, a ban from watching games for a period of time or a lifetime ban.
Club officials have a major role to play in our quest to eradicate hooliganism in our game. Fans should be educated to stay away from violent acts through the supporters' wings and they should also cooperate with the police to investigate hooliganism.
Ironically, in Ghana, instead of club officials helping the police to bring perpetrators of violence in our game to book, they rather go behind and work out for their bail.
The clubs are the ones that lose a lot as a result of hooliganism in the game because when turnout is poor for games, they are those who get affected the most, so they have to take the subject more seriously.
The journalists should have a campaign against hooliganism in football games. There should be a dedicated effort from all media; from print, online, radio to television to sensitise sports-loving fans to kick against violence.
This will, in the long run, make everybody who walks to the stadium feel that he or she has a role to play by behaving as a responsible fan. A responsible fan can even go the extra mile to expose people behind hooliganism.
If all stakeholders play their part, we will bring back the love for the game we have been craving for.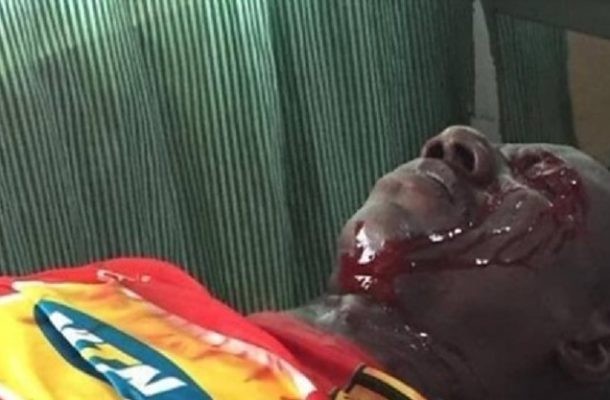 kotoko-fan

[ad_2]

www.pulse.com.gh