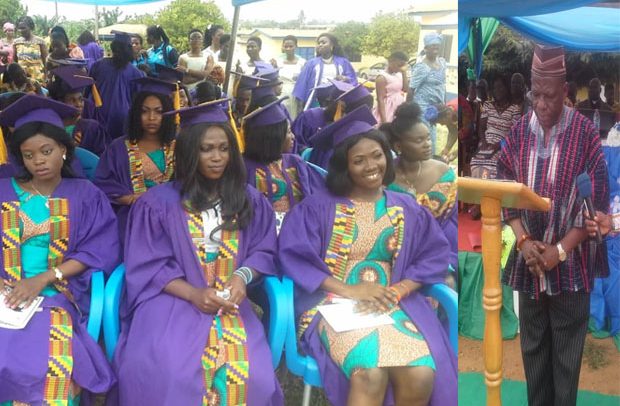 122 Graduate With Vocational Skills
Mr. Paul Avorkah, the National Coordinator of the Alternative Livelihood Program, addressing the students
THE Suhum Community Development Vocational and Technical Institute (SUVOTECH) on Friday held its 9th graduation ceremony in the Suhum Municipality of the Eastern Region.
One hundred and twelve (112) students, who undertook a three-year training programme in catering, fashion design, electrical installation, beadwork, interior decoration, secretarial, hairdressing and auto-mechanic, successfully passed out.
Paul Avorkah, the National Coordinator of the Alternative Livelihood programme, speaking on the theme: "Vocational and Technical Education; providing sustainable livelihood", appealed to the Department of Community Development and the Ministry of Local Government to support them to start their own businesses.
Madam Edith Adabadze, Principal of the Institution, commended them for offering themselves for vocational training.
"The academic performance of the students is highly good but their attitude towards learning is not encouraging due to the notion that it is the less clever students who attend these institutions. We need to do more to erase this negative perception because the total development of the nation cannot be accomplished without the contributions of vocational and technical education," she said.
Mrs. Edith Adabadze continued by advising the graduands and encouraged them to establish their own enterprises and practice the skills they've acquired to make them self-reliant in the future.
She, therefore, pleaded with the government through the department of community development on behalf of the institution to repackage vocational and technical education in the country to make it more attractive by providing the necessary teaching and learning materials such as furniture, adequate classrooms and other infrastructure to ease education.
C.K. Dondieu, a Local Governance Expert, lamented the perception that vocational and technical institutes belong to people who can't make better grades. According to him, that perception is the main impediment for vocational and technical education.
However, he said "under the leadership of President Nana Addo Dankwa Akufo-Addo, vocational and technical education has been transformed."
From Daniel Bampoe, Suhum