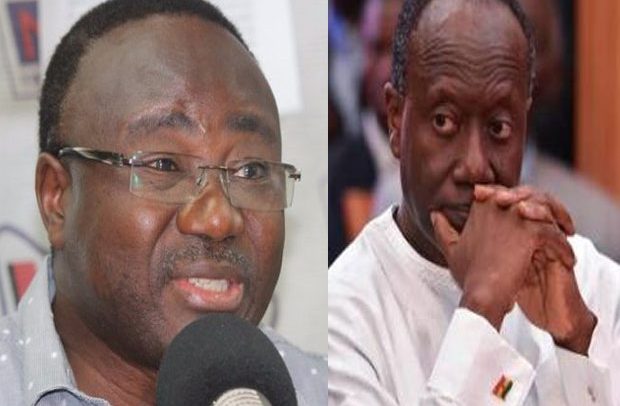 21 CSOs Petition Gov't Over GH¢ 2.75bn Procurement Cash
Suspended PPA boss, A.B. Adjei and Finance Minister, Ken Ofori Atta
A total of 21 civil society organizations (CSOs) in the country have petitioned the Finance Ministry, requesting for detailed information relating to projects that resulted in the savings of some GH¢ 2.75 billion to the State.
The CSOs in the petition signed on their behalf by Beauty Emefa Narteh, Executive Secretary of the Ghana Anti-Corruption Coalition (GACC), made reference to the Finance Minister, Ken Ofori-Atta's disclosure on July 29,
2019, during the presentation of the 2019 Mid-Year budget review of the government to the Parliament.
"Given that the said savings of GH¢ 2.75 billion was allegedly attained through a
thorough scrutiny of contracts that were either sole-sourced or procured through
restrictive tendering, it is imperative for these contracts to be made public to aid an appreciation of Government's commitment to value for money and the protection of the public purse," the petition read.
It said "such a disclosure will also be in line with the principle of transparency
and accountability in governance."
According the CSOs in the petition, "we are interested in the full list of single source and restrictive tendering contracts from which the savings were made."
"Each of the
contracts should contain the following for verification: 1. The name of the contract and the awarding entity (MMDA), 2. The initial cost and revised cost at which the contract was awarded
3. The company or companies to which the contract was awarded, 4. When the contract was awarded," according to the petition.
The CSOs include: 1. Ghana Anti-Corruption Coalition (GACC)
2. Ghana Integrity Initiative (GII)
3. Media Foundation for West Africa (MFWA)
4. Ghana Centre for Democratic Governance (CDD-Ghana)
5. Institute for Democratic Governance (IDEG)
6. Africa Centre for Energy Policy (ACEP)
7. SEND-Ghana
8. Penplusbytes
9. Financial Accountability and Transparency-Accra (FAT-Africa)
10. IMANI-Ghana
11. West Africa Civil Society Institute (WACSI)
12. Commonwealth Human Rights Initiative (CHRI)
13. Centre for Local Governance Advocacy (CLGA)
14. Citizens Movement Against Corruption (CMaC)
15. Women in Law and Development in Africa (WiLDAF)
16. ISODEC/CSO Oil and Gas Platform
17. Economic Governance Platform
18. Parliamentary Network Africa
19. Africa Centre for International Law and Accountability (ACILA)
20. Legal Resources Centre
21. Institute of Economic Affairs
They gave the Minister 14 working days to respond to their demand.
BY Melvin Tarlue