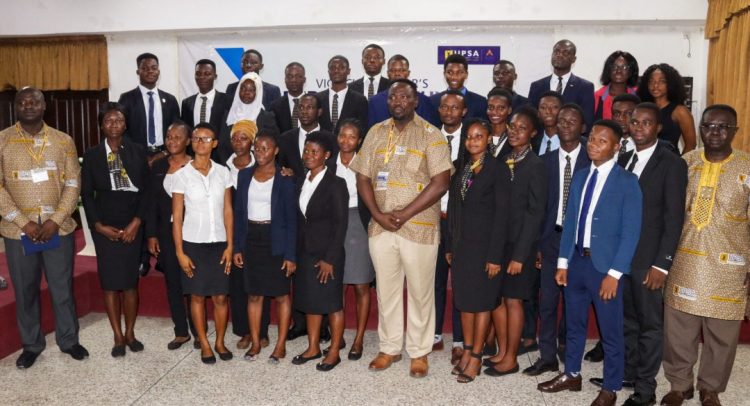 31 UPSA Students Get Scholarships
Beneficiary students in a group photograph with Professor Charles Barnor and other officials of the University.
THIRTY ONE students of the University of Professional Studies, Accra (UPSA) have benefitted from the Vice Chancellor's Endowment Fund (VCEF).
The VCEF is a scheme that awards scholarships to bright and needy students, with the aim of improving access to university education in Ghana by enabling them receive free undergraduate education at the University.
At a brief ceremony held on the university's premises on Wednesday, October 2, twenty fresh students, as well as eleven students from the previous academic year were awarded full and part scholarships.
In his remarks, Professor Nana Owusu-Frimpong, Board Chairman of VCEF, observed that the scheme is making a positive impact on the Ghanaian society, and added that the fund has ensured faster completion rates, reduced potential school drop-outs and provided an opportunity for marginalized students to undertake undergraduate student programmes.
This year, the programme has increased the number of student beneficiaries from twenty during the previous academic year to thirty-one.
To ensure accountability and transparency, he said, the Fund is managed by a Board of Trustees composed of external professionals of high repute, working through a dedicated fund manager and the Fundraising and Awards Committees.
The VCEF among other objectives seeks to identify and support bright and financially-challenged Ghanaians who desire an opportunity to undertake tertiary education at UPSA; to support brilliant and progressive financially-challenged continuing undergraduate and postgraduate students through the provision of scholarships to enable for training at any of the UPSA training faculties and to enable the marginalized and disadvantaged Ghanaian such as the girl child, orphan, person with disability among others to gain and access complete tertiary education at UPSA.
In an interview with Daily Guide, Pro Vice Chancellor of the UPSA, Professor Charles Barnor stated that due to poverty, many a person are unable to see their ambitions become reality; so the VCEF was setup to give such opportunities to bright and needy students.
On criteria for selection, Prof. Barnor said the the VCEF committee has put in place measures to identify the background of people who apply for the scholarships.
"We look at the family background, the income, the possibility that they will not be able to complete the program; and we also look at the results of SHS graduates to determine whether or not they have the ability to do university work", he posited.
The Fund is targeting a seed amount of Ghc100 million or $20 million within the next four years.
By Nii Adjei Mensahfio