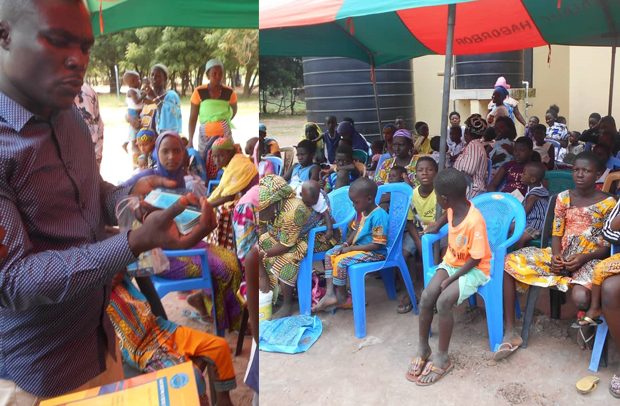 Abetifi MP Registers 1,000 Residents For NHIS
Karikari Agyemang inspecting some of the cards and Some residents waiting for their turn
The Member of Parliament (MP) for Abetifi in the Eastern Region, Bryan Acheampong, through his foundation, has registered about 1,000 people in his constituency to benefit from the National Health Insurance Scheme (NHIS) free of charge.
The beneficiaries are mostly the aged and vulnerable children from five electoral areas like Miaso, Ankoma, Sempoa, Oframase and Dwerebease-Onyemso within the Kwahu East District.
The MP, who is also a Minister of State in charge of National Security, has used his foundation called Bryan Acheampong Foundation (BAF) to bring numerous social intervention programmes to the people in his constituency, and the effort to increase access to quality health services has not been left out.
Speaking during the registration, the manager for BAF, Hilary Konadu Awuah, emphasized the importance of access to quality healthcare.
He commended the collaborative efforts of officials of the Mpraeso National Health Insurance Authority (NHAI) in getting the people registered.
"As a foundation, we are happy that more poor and vulnerable people would get access to quality health care through this initiative," he said.
He implored the beneficiaries to take advantage of the exercise to improve their health conditions.
The leader of the NHIS team, Karikari Agyemang, urged the beneficiaries to live healthy lifestyles and observe basic hygienic practices.
Some beneficiaries could not hide their joy and commended the MP for coming to their aid.
From Daniel Bampoe, Abetifi