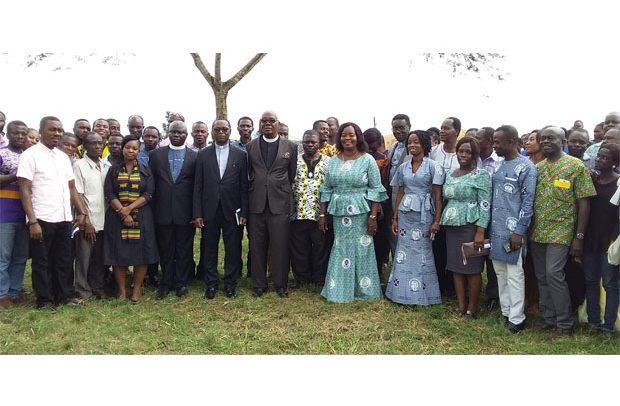 Aburi SECTECH Calls For Support
A group photograph of stakeholders
Madam Janet Mensah, the Headmistress of Aburi Senior High Technical School in the Akuapem South District of the Eastern Region, has appealed passionately to the government and other NGOs to assist the school to put up a dormitory, dining hall and classroom blocks.
According to her, despite government's support to the school, it still needs dormitories and classroom blocks, describing them as a major challenge to the school.
She made the appeal when former Aburi Presbytery Chairman, Rev. Charles B. Ahwireng, cut the sod for the construction of a two-storey building for the school at a cost of GH¢400,000.
She hoped by September this year, the GETFund project which was abandoned would be completed so that they would be able to admit more students in the next academic year.
"I'm hoping that all those who have passed through the school will also come and help. We are improving the school in so many ways and I'm calling on all and sundry to provide the little support they have. In fact, the school is one that people must wish to attend and it is our desire to improve upon the academic performances and make it top class," she stressed.
She said there were 2,087 students excluding those coming to Form One in September, and the lack of infrastructure would make things more difficult for the authorities of the school.
After cutting the sod for the construction of the storey building, Rev. Ahwireng said the project would take about two years to complete. Besides, he added his voice to the call for the school to be resourced.
FROM Daniel Bampoe, Aburi