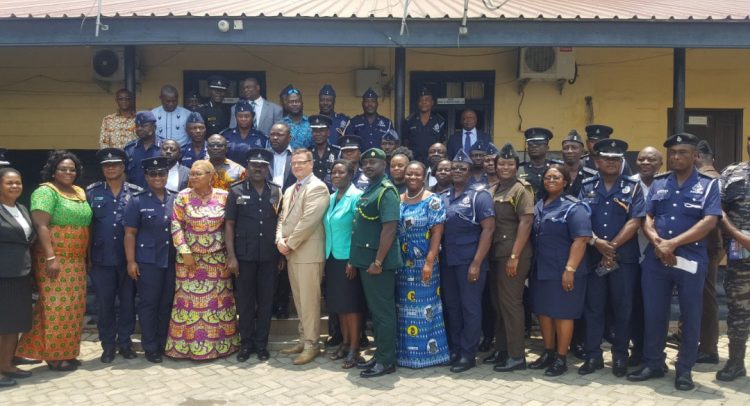 Accra Regional Police Launches Diary
The Accra Regional Police Command has launched a Police Diary that seeks to educate the public on crime prevention, policing and law enforcement.
The 27-pages bi-annual magazine, titled: "Police Diary" with focus on the Accra Regional Police Command is edited by the Regional Public Affairs Officer, Deputy Superintendent of Police, Effia Tenge.
The Police Diary also aims at providing a more direct and effective system of communication between the police and the public.
Speaking at the launch, the Accra Regional police commander, Deputy Commissioner Of Police, (DCOP) Fredrick Adu Anim, indicated that the magazine will help the public better understand what policing is all about and what they can also do to help the police in fighting crime.
He said the launch of the Police Diary formed part of a communication strategy of the command to reach out to the public, so that they could understand contemporary policing and its challenges in ensuring socio-economic growth of the country.
"This will yield public support for realisation of police's achievement', DCOP Anim said.
He revealed that the police diary was for everybody; the police and the public since it was informative, educative, pictorial and safety oriented.
He appealed to other personnel, to contribute positively to the magazine with articles, crime dynamics, activities/programmes and events to enrich its content and quality.
The Executive Director of Salt and Light Ministries, Dr Joyce Rosalind Aryee, in an address said the Police Diary would help inform the public of the operations of the police and the protection of citizenry.
She said policing was a shared responsibility, adding that communication was key to crime prevention.
Dr Aryee asked the police to place important information about their activities on social media.
She urged the public to desist from sensationalising crime stories, adding that such practices affected the work of the police.
DSP Efia Tenge in an address said, the Police Diary will focus on building public consciousness on security through education.
She said the police information plays an integral role in police operations.
Adding that the magazine would help educate the public on security issues, and also serve as an information-bridge between the public and the police.
(lindatenyah@gmail.com)
By Linda Tenyah-Ayettey