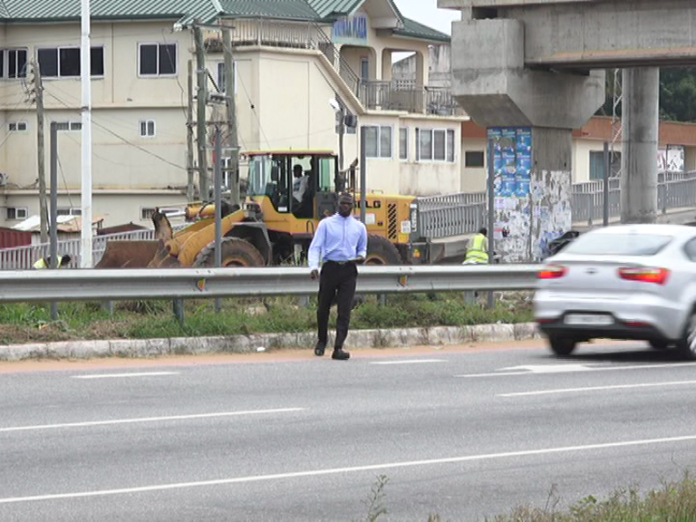 Some residents crossing the road
Some pedestrians
at Adentan are risking their lives to cross roads with reckless abandon despite
the completion of footbridges.
It would be recalled that residents of Adentan and Madina protested on many occasions against the uncompleted state of six footbridges on the stretch before the government moved in to finish the work.
Three out of the six footbridges on the Madina-Adentan highway have been completed after many protests by the residents.
The completed footbridge
The Adentan SDA
Junction, Assemblies and WASS footbridges have been opened for public use, but
those of Madina Fire Stone, Zongo Junction and Nkwantanang are at the various
stages of completion.
But, checks by Adom News showed that the completed
footbridges were not being utilised by some people who preferred to compete
with vehicles on the main road at Adentan for space.
Our reporter, Kodwo
Mensah Aboroampa, had a conversation with some of the residents after observing
that they spent more than 10 minutes to cross the main road rather than
spending less than four minutes to use the footbridge.
The reason they
gave was that the footbridge was too far for them as compared to crossing the
main road despite the risk of losing their lives.
A driver at WASS Junction expressed
shock at the attitude of some residents, saying they sometimes have to exchange
words with some of them before they use the speedways.
The drivers are, therefore, calling on
the security services to provide personnel to man the place for proper utilisation
of the facilities.
Meanwhile, some Madina
residents are calling on the contractors to work with the same speed used in
constructing the Adentan footbridges and complete the Fire Stone, Zongo
Junction and Nkwantanang footbridges to save them from knockdowns.
Source: Adomonline | Kodwo
Mensah Aboroampa | Adom News