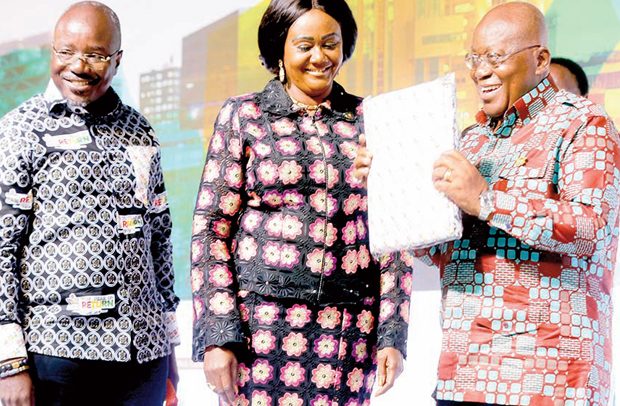 Akufo-Addo Considers Dual Citizenship Bill
President Akufo-Addo displaying the cloth while Barbara Obeng Gyasi and Kwesi Agyemang look on. Picture by Gifty Ama Lawson.
Government is considering the option of tabling a bill before Parliament to consider the issue of dual citizenship.
The current provisions of the country's 1992 Constitution do not allow persons with dual citizenship to hold public office in Ghana.
This has often provoked a debate about the relevance of that clause in the Constitution, considering the invaluable contribution of Ghanaians in the Diaspora to the development of the economy.
Speaking at the Ghana Diaspora and Homecoming Summit in Accra yesterday, President Akufo-Addo dropped the hint that Parliament would soon be afforded the opportunity to address the issue of political rights of persons with dual citizenship in the country.
He said "the reason is that we know from the example of several countries where a truthful collaboration between their overseas nationals and their governments can bring to their nation development and prosperity; let us emulate them."
"The question of the political rights of dual citizens is a matter for Parliament and an opportunity is going to be provided soon for Parliament to address this issue and thus looking forward to the Diasporan Bill to come before Cabinet for consideration before it is laid before Parliament," he pointed out.
"I'm happy about the decision taken by the Office of Diasporan Affairs headed by one of your own Akwasi Awuah Ababio to work on the diasporan engagement policy bill; this bill will help deal effectively with all matters affecting Ghanaians overseas," he stressed.
He talked about the impact of diaspora communities for the growth and development of countries to increase trade activities, raising investment and the transfer of skill and knowledge.
"Take the case of China for example; with a immigrate population of 60 million, the Chinese Diaspora is set to be the 25th largest country in the world who own assets more than $2.5 trillion. When the foreign companies in the late 1970s reduced their investments in China, it was the Chinese Diaspora that shored up the economy," he said.
He also quoted the Washington DC-based Migration Policy Institute (MPI) which indicates that half of the Foreign Direct Investment (FDI) of $426 billion that transformed China into a manufacturing power house in the 1990s originated from the Chinese Diaspora.
"That is why is I'm happy by the decision taken by the office of the Diaspora affairs to work on despair engagement policy bill. The bill would deal effectively with all matters affecting Ghanaians overseas and it is believed that beyond the remittances they bring back home, they have a crucial part to play towards the growth and development of Ghana," President Akufo-Addo said.
With this year set aside as a year of return to commemorate the 400th anniversary of the arrival of the first 20 West Africa slaves – all virtually of Ghanaian origin to the Commonwealth of Virginia now part of USA – President Akufo-Addo noted, "We intend to use the symbolism of this Year of Return to bring together Africans, persons of African descent and all well-wishers of freedom to strengthen the commitment to ensure that the blot in history such as the Trans Africa Slave Trade and slavery never reoccurs."
By Charles Takyi-Boadu, Presidential Correspondent