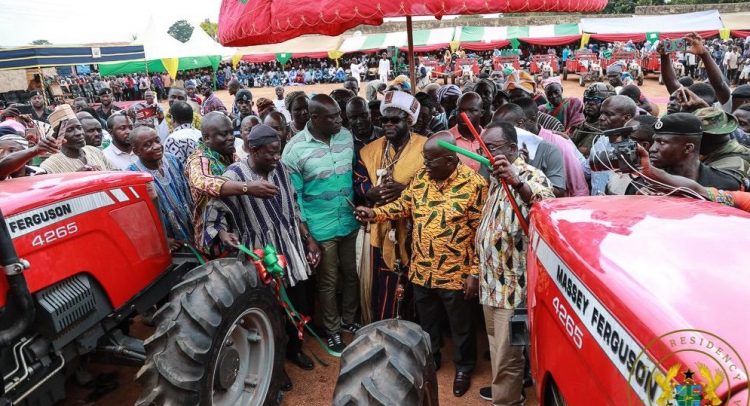 Akufo-Addo Outdoors Agriculture Mechanization Centre In Wulensi
President Akufo-Addo inspecting some of the equipment
President Nana Addo Dankwa Akufo-Addo has
handed over assorted machines under the Agricultural Mechanization Centres
(AMSEC) in the Wulensi District of the Northern Region.
The AMSEC is a module under the flagship
project – Planting for Food and Jobs (PFJ). As part of the handover, the
President presented tractors, power tillers and various farm implements to the
District Assembly at Wulensi.
Minister of Agriculture, Dr. Owusu Afriyie
Akoto, who is the brainchild of the PFJ, announced at the event that 33 AMSECS were
being installed in selected MMDAs and another 50 AMSECS were being installed
for nucleus-outgrower farmer groups around the country.
President Akufo-Addo said the PFJ had come to
stay and added that "we want to get a situation in Ghana were we have food
security; where we would have an agriculture that can assist in the industrialization
of our country; an agriculture that can also earn us money because of exports
of agricultural produce for this country and other countries both in West
Africa and abroad."
He gave an assurance that "we are going to increase
the mechanization centres so that farmers will have the equipment to be able to
modernize their methods and practices to grow Ghanaian agriculture."
Na Salifu Osman Wumbei – the regent of Wulensi
– said the AMSEC would increase productivity and farm yields and improve on the
economic fortunes of farmers in the country.
The regent said that numerous policies and
programmes that are being implemented under the Akufo-Addo government is a
testimony of the good intentions of the administration, saying to the President:
"This clearly shows that you are a father who cares about all the people."
FROM Eric Kombat, Wulensi