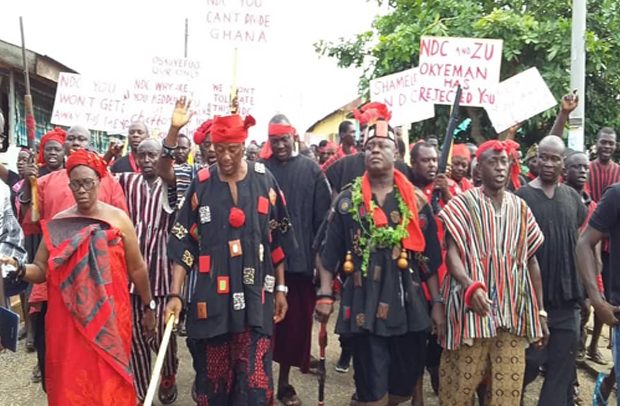 Akyem Abuakwa Residents, Chiefs Demo Against NDC
Akyem Abuakwa residents and chiefs demonstrate against NDC
Residents and traditional leaders within Akyem Abuakwa are demonstrating today, Monday, September 23, 2019, against the National Democratic Congress (NDC).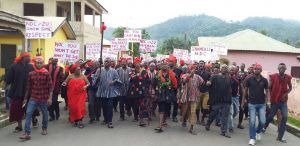 The demonstration has been necessitated by some alleged abusive and provocative comments made by Kwame Zu, the Ashanti Regional Secretary of the NDC, against the Okyenhene, Osagyefo Amoatia Ofori Panin.
The Okyenhene, Osagyefo Amoatia Ofori Panin, Mr. Zu purportedly said, was stopped from drinking water with animals through the hard work of former President John Dramani Mahama.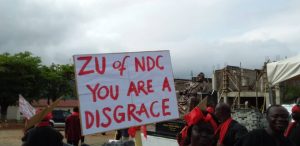 According to him, the Okyenhene competed with animals for water in various unsafe sources until the former President provided water for residents of Kyebi which is the hometown of President Nana Addo Dankwa Akufo-Addo.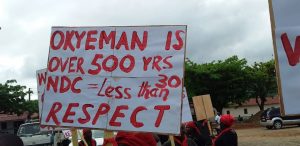 Mr. Zu was addressing participants of a demonstration by the Coalition for National Sovereignty.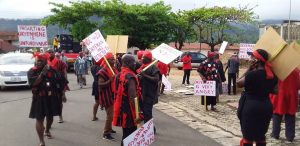 "If this Kejetia edifice had been in Kyebi won't Akufo-Addo open it for his people to use? What development has he brought to Asanteman…even his own hometown his people were competing for drinking water with animals, John Mahama had to provide potable water for his kinsmen. Until John Mahama provided water for him, Okyehene was drinking with animals," he said.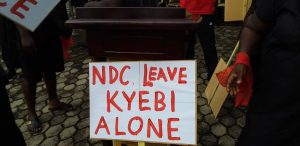 But the Akyeam Abuakwa Traditional Council became seriously unhappy with the comments and has notified the police command in the area about the protest action.
BY Melvin Tarlue