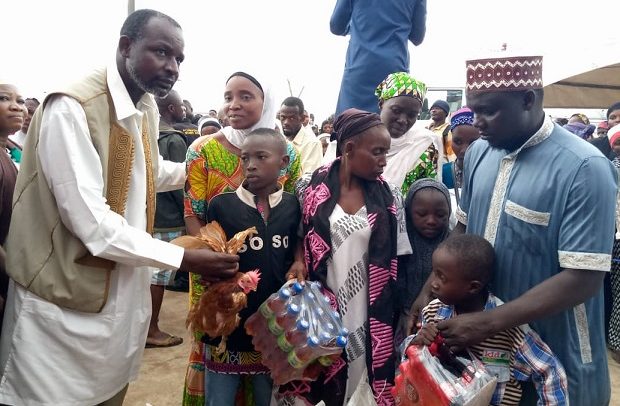 Alpha Radio CEO Builds Orphanage
Sheikh Ridwan pres enting a fowl to an orphan
The Chief Executive Officer (CEO)
of Alpha Radio, Sheikh Mohammed Ridwan, has announced plans to build a modern
orphanage in Kumasi, the Ashanti Regional capital.
According to the CEO, the orphanage
would be used to properly house orphans, especially those from the Zongo
communities.
For the past six years, Sheikh
Ridwan and Alpha Radio have been feeding thousands of orphans during Eid-ul-Fitr.
But Sheikh Ridwan wants to extend
his works by building an orphanage to support orphans.
"This year, we are supporting about
5,000 people, including orphans and widows with bags of rice, sugar, chicken
and cash. After six years of doing this during Eid-ul-Fitr, we want to build an
orphanage so that we can properly take care of orphans," he said.
Sheikh Ridwan warned that
miscreants would mislead orphans to become criminals if society neglects them.
"This is what we want to prevent
and so I am appealing to the public to give us the needed support to realize
this ambition," he added.
Alhaji Abdul Mumin, General
Manager, Alpha Radio, said, "We also donated to Muslims at Kumasi Central Prison
and KATH."
Jackson Prah, a staunch Christian, who donated to Alpha Radio, revealed that Christians and Muslims serve one living God.
From I.F. Joe Awuah Jnr. Kumasi