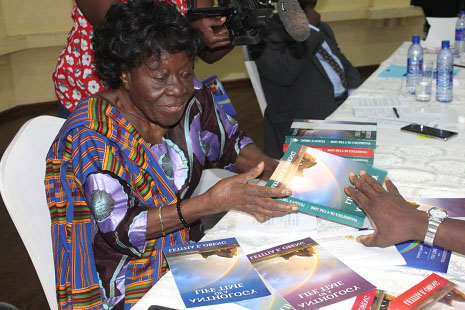 'Anthology Of A Lifetime' Launched
Dr. Litetia Eva Obeng at the launch
Dr. Litetia Eva Obeng, described as
the grandmother of female scientists in Ghana, has launched a book on what she
terms the 'Silent Heritage'. 
The book, 'Anthology Of A Life Time',talks about natural resources, especially those unobtrusive factors and
features which do not meet the accepted definition of 'natural resources' although
they are a part of the abundant resources of our environment.
The book which comes in four different
colours ‒ purple, red, blue and green, delves‒  into other aspects of our environment drawn
from her collection of lectures and publication during the last 60 years.
It underscores that "a country
without a culture is nothing", as well as makes provision for polices that will
help sustain water bodies, parasitology and the environment at large. 
Senior Minister Yaw Osafo-Maafo, in his speech as the guest of honour, commended Dr.
Obeng for her collection of literary works in broad diverse topics compiled
into a single book.
"You must have really organised
yourself to bring out this impressive piece of work," he said.
Mr. Osafo-Maafo stated that the
writer combined idiomatic expressions and proverbs in a very sophisticated
manner to communicate clearly the diverse environmental issues in the country.
Reading excerpts of the book to the
audience at the book launch held at the Academy of Arts & Sciences where
she was the first female president, Dr. Obeng said, "Our Silent Heritage gives
us also, other precious resources which we do not seem to recognise or
acknowledge as resources."
She made reference to the sun, moon
and stars, singing birds, humming bees, whistling winds and rustling leaves as
examples of silent natural resources people often fail to pay attention to their
existence.
"Without some of them, in many ways,
our lives on this planet would, indeed, be dreary and grey!
The start of the day, gives us a sun
which lights up our earth, instills its warmth deep into the living, energises
the environment and sparkles sparkling gems on dew-tinged grass lawns!
Yet we hardly acknowledge this amazing
event as a precious resource," she added.
The Minister for Environment
Science, Technology & Innovation, Prof. Kwabena Frimpong-Boateng, chairperson
for the event, recommended the book for all to have a renewed commitment
towards protecting the environment. 
A total of GH¢56,000 was generated from the sale of the book, with the first copies going to Mr. Osafo-Maafo for GH¢10,000.
By Jamila Akweley Okertchiri & Nadia Nimako