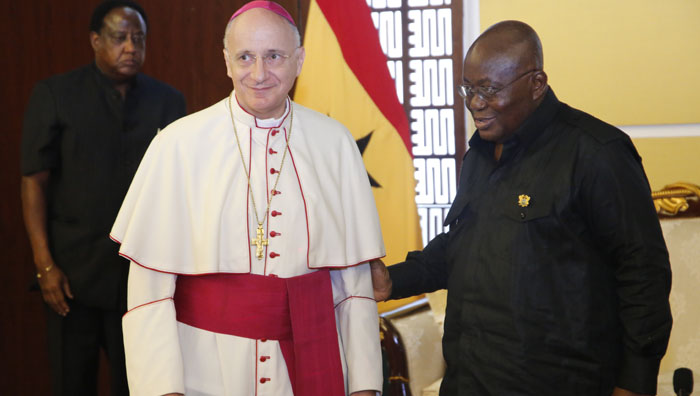 Apostolic Nuncio Weeps
President Akufo-Addo with Jean-Marie Speich (left), the Apostolic Nuncio to Ghana at the Jubilee House in Accra after the meeting.
The Apostolic Nuncio to Ghana, Archbishop
Jean-Marie Speich, was literally moved to tears as he bid farewell to President
Akufo-Addo at the presidency yesterday.
He called on the President to announce the
end of his five-year duty tour of the country as a representative of the Pope
(Papacy) and the Vatican (the Holy Sea).
The man of God could not hide his feelings
during the brief meeting.
"Mr. President I feel sad because I have to
leave your country. I was here five and half beautiful years, so I had the
opportunity to know better your country…and I had the time too to understand,
to know and to appreciate your culture and, of course, the time to find good
Ghanaian friends,"  he said.
During his five-year stay in the country,
the Archbishop revealed that he visited all the regions in the country.
He equally commended the government and
people of Ghana for their commitment to the tenets of democracy, which he described
as exemplary, urging other countries on the African continent to emulate the
shining example.
"This is what has translated into the level
of development in the country, not forgetting the level of religious tolerance
and freedom in Ghana which is also commendable."
He was of the firm belief that Ghana was on
the right path under Akufo-Addo government, considering the number of
programmes and policies it continues to roll out on a daily basis.
Archbishop Jean-Marie Speich described the
relations between Ghana and the Holy Sea as excellent, for which reason Pope
Francis sent a special envoy to Ghana during its recent Independence Day
anniversary celebrations.
President Akufo-Addo, on his part, commended
the outgoing Apostolic Nuncio for his contributions to Ghana's development
during his duty tour of the country.
He wished the Catholic Archbishop well in
his future endeavours and expressed the hope that he would market Ghana
wherever he finds himself.
By Charles Takyi-Boadu, Presidential Correspondent