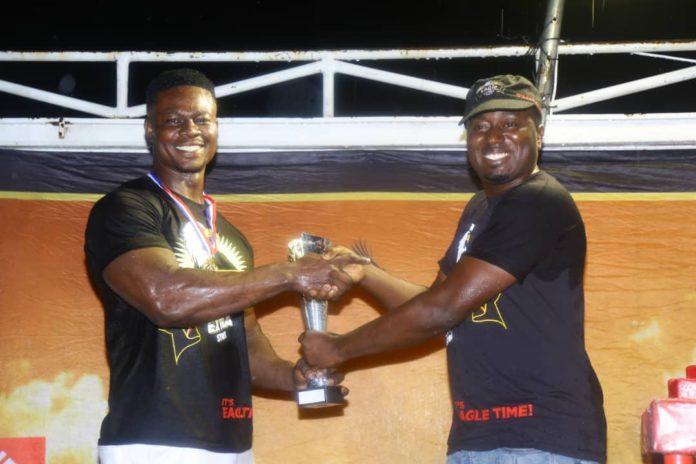 Derrick Kwakye aka Asoka overcame stiff competition from Bosiako Antwi to emerge overall champion of the Ashanti Regional edition of Eagles Extra Stout Armwrestling  Challenge held in Kumasi on Saturday.
Having won in Brong Ahafo, Western and the Eastern regions, Asoka gave his fans something to cheer about as he overpowered heavyweight Antwi Boasiako aka 'The Punisher' in one of the most keenly contested armwrestling battles ever witnessed.
At the Janet and Sons pub in Kumasi, Ghana's best female puller Alberta Ampoma Boatemaa expertly defeated fast improving Yasmin Kadri 2-1 to win the crown in the female category.
Ghana's best female puller Alberta Ampoma Boatemaa expertly defeated fast improving Yasmin Kadri 2-1
In the 90+kg category, Asoka once again proved his
mettle as the king of Ghana armwrestling by beating Fawzi George Saoud, a
Ghanaian of Lebanese descent.
Speaking after his defeat to Asoka, Fawzi held that investment and commitment by authorities are key to the development of armwrestling.
"Like every other sport, this sport could develop and trust me we will win medals. This game needs development and I think we are doing great at our level", he said.
With his dominance on the local scene confirmed, Asoka
has now set sights on continental and global laurels.
"I train very hard for these competitions. Whenever I go to the gym, I focus on strengthening my arms because I know I'm a puller and showing my talent to the world. Last year, I went to Turkey and I didn't do well because it was my first world champion but I'm hoping that this year I will win medal for Ghana in Africa and the World Championships," he noted.
In the men's 60+kg class, Wisdom Abromekyi walked home with a gold medal after coming first while the silver medal was handed to Gordon Adusei.
Prince Afum and Godwin Sackey fiercely engaged in the longest battle of the evening to the admiration of patrons of the event, staying on the table for over 17 minutes.
Derrick Mensah finished second to Edward Asamoah in the
80+kg class to pick the silver medal in that weight class.
Mr Collins Mpiani, Sales Manager for ABL, Ashanti Region was elated about the various performances and show of sportsmanship by the athletes.
Communications Director for the Ghana Armwrestling Federation, Mikki Osei Berko hinted that the quality of talents displayed was high and Kumasi has given GAF options for the national team selection ahead of the Africa Armwrestling Championships coming up in Mali.
The Eagle Extra Stout Armwrestling storms the Upper East
regional capital of Bolga next.