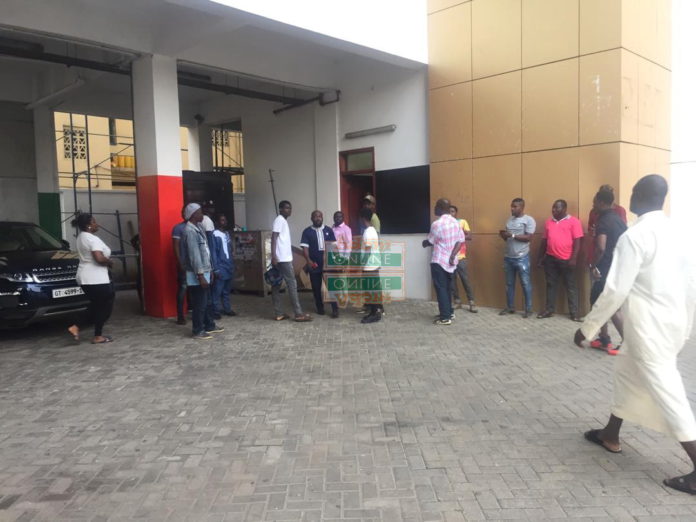 After failing to file his nomination form in Kumasi to contest the upcoming primary of the National Democratic Congress (NDC) at the Asawase constituency, Mubarick Masawudu finally made his way to the party's headquarters in Accra to do so.
However, at the headquarters, he was again frustrated when he tried to go through the process.
Deputy General Secretary of the party, Barbara Asamoah, who received him said there was no information for his form to be accepted.
ALSO: Fetish priestess assistant shoots 1 dead, injures another
Adom News' Kodwo Mensah Aborampah, who was at the headquarters, reported that after exchanging few words, angry Mr Masawudu moved out of the Deputy General Secretary's office and threatened to make the party unattractive at Asawase.
Some supporters, who followed him, threatened to sleep at the party's headquarters if Mr Masawudu doesn't file.
ALSO: Video: NPP youth organiser to lead demo over LEKMA road
A worried Mr Masawudu said on Asempa FM's Ekosi Sen show, Friday that he believed he was frustrated because there was a grand scheme by some elements in the party to kick him out and allow the Member of Parliament (MP), Muntaka Mubarak to go unopposed.
He said he would go all out to ensure that his nomination form is received.
"I was rejected at the party office in Kumasi and I was forced to come to the headquarters where they have still refused to take my form. I will sit here till they close and if they still refuse, we will take the next action," he stated.
NDC Communications Director for Asawase, Yakubu Tony Aidoo on the same show said from his records no one is contesting Mr Mubarak.
ALSO: Tension as angry Ashanti Region NDC supporters storm party office
He said they will ensure that no one contests him.
"As far as I am concerned, at Asawase we won't allow anyone to contest our current MP. We won't allow anyone. Nothing will happen at Asawase. We will keep Muntaka forever and we are not ready to disappoint him because of someone we don't know," he said angrily.
Source: Adomonline.com | Dorcas Abedu-Kennedy