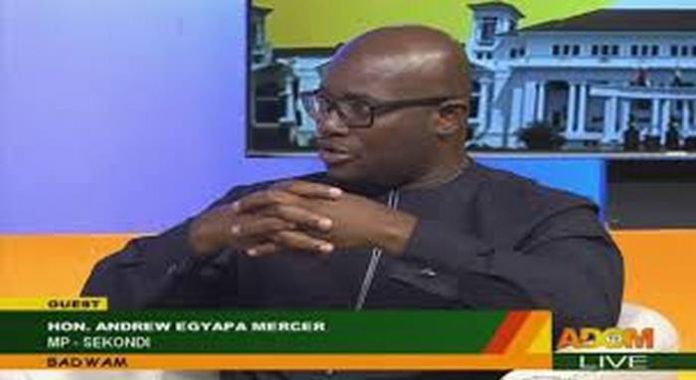 Member of Parliament for Sekondi, Andrew Egyapa Mercer, has denied claims that he is the director or a shareholder of the Power Distribution Services (PDS).
He explained his linkage to PDS as being the director and secretary of a company known as the TG Energy Solutions Ghana Limited, in 2014, a company that is part of the PDS consortium.
ALSO READ: Audio: Your petition over PDS scandal disgraceful – Oppong- Nkrumah tells Minority
I do not have any interest or whatsoever in PDS. I am not a shareholder [of PDS], neither am I a director of PDS. In 2014, when I was practising as a lawyer, some persons that I know requested that I incorporate a company for them. The name of the company was given to me by the said persons and of course, they gave me the name of one individual that they intend to be the director and asked that I be the other director or secretary of the company – an activity that many lawyers do in the course of their work. So I proceeded to incorporate the company. I obtained the certificate of incorporation on the 24th of June 2014 and that was the extent to which my involvement ended, he said on Joy News' AM show.
The Editor of the Herald Newspaper, Larry Alan Dogbe had sought to implicate Mr Mercer and two others in the PDS concession debacle.
PDS has been accused by government of providing forged documents to win the concession for the takeover of the Electricity Company of Ghana.
ALSO READ: Minority petitions US ambassador over PDS debacle
Larry Dogbe, among other things, accused Mr Mercer of conflict of interest over the PDS deal.
He said the MP, who is one of the directors of TG Energy Solutions, was in Parliament when the PDS concession agreement was ratified but he failed to declare his interest in the company to the people's representatives.
But reacting to the claims, Mr Mercer said he had no idea the TG Energy Solutions was involved in any 'deal'.
Source: Adomonline.com|Dorcas Abedu-Kennedy