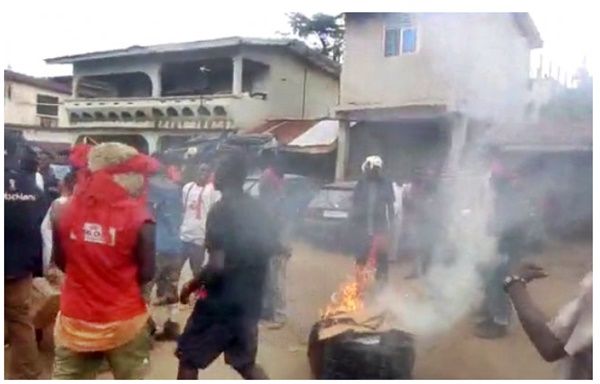 The Igbo King of the Nigerian Community in Ghana, His Royal Majesty, Chukwudi Jude Ihenetu is pleading with the Ghana Union of Traders Association (GUTA) to temper justice with mercy following the attack carried out by some of its members on some Nigerian traders at Suame Magazine in the Ashanti region.
He said, though foreigners are not supposed to engage in retail business in the country, he believes the action by the Ghanaian traders was an eyesore.
To him, majority of Nigerians in retail business are 'hustlers' and therefore there was the need for a bilateral agreement to find a lasting solution.
ALSO: Audio: Abossey Okai Spare Parts Dealers bare teeth at foreigners in retail business
"In the first place, these Nigerians in the retail business are hustlers and we are not intending to break laws because I know it's illegal for foreigners to do retail business in Ghana. All I'm saying is that, our brothers in Ghana should temper justice with mercy because we are brothers," he stated.
Chief Ihenetu was speaking on Asempa FM's Ekosi Sen, Thursday.
ALSO: Audio: Sacked Nigerian professor to lose entitlements – UEW
Some Ghanaian traders on Tuesday and Wednesday
ransacked shops and forcibly closed down some shops in the area belonging to
Nigerians.
Chief Ihenetu is pleading with Ghanaian traders not to mar the relationship between Ghana and Nigeria.
ALSO: Ghana, Nigeria relationship still cordial – Oppong Nkrumah
"Let's not mar the relationship between Ghana and Nigeria with this small issue of trading. We should know that there are many Ghanaians in Nigeria. I am begging GUTA and its members not to see fellow Nigerians as enemies because your businesses are not collapsing," he noted.
Source: Adomonline.com | Dorcas Abedu-Kennedy