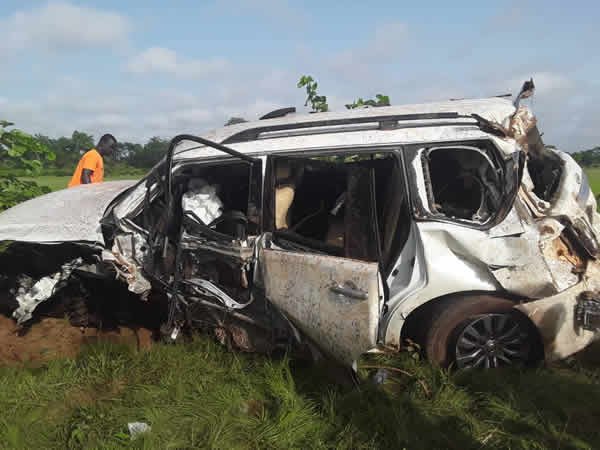 The District Chief Executive (DCE) of Mion, Mohammed Hashim Abdallah, one of the four Municipal and District Chief Executives (MDCEs) who were involved in a near-fatal accident on June 24, 2019, has broken his silence.
Mr Hashim Abdallah who has been discharged from the hospital has told Adom FM's Dwaso Nsem that they were not sure of the bus, admitting he and his colleagues had failed to exercise better judgment prior to organising the bus.
ALSO READ: Video: Becca explains why she unfollowed everyone including NAM 1
According to him, even though each of them had their official vehicles, they decided to organise a bus to Wa because they thought it would save time and cost.
He said the lessons they had learnt after the accident is to do due diligence before organising a bus for his colleagues for such programmes.
"We were not sure of the condition of the bus but we had already organised it and all four of us decided to use it to save cost but unfortunately, we found ourselves in this," he narrated.
ALSO READ: Full Report: World Cup GH¢3.4m 'chop chop' saga, GBC, Auditor-General face-off
The Dean of the Metropolitan, Municipal and District Chief Executives (MMDCEs) in the Northern Region said he has since been discharged.
Earlier in the week, two of his colleagues, the Municipal Chief Executives for Gushegu, Musah Issah and Nanumba North (Bimbila) MCE, Abdulai Yakubu, were discharged by Dr Godfred Takyi, head of the Accident and Emergency Department of the Tamale Teaching Hospital.
ALSO READ: Intercepted letter shows Parliament notified Presidency about new chamber
The three are expected to go for reviews at different times but the District Chief Executive for Zabzugu, Mr Ahmed Abukari Iddrisu, is still at the Intensive Care Unit responding to treatment.
Mr Hashim Abdallah who sounded very worried was grateful to God for saving them.
Source: Adomonline.com|Dorcas Abedu-Kennedy