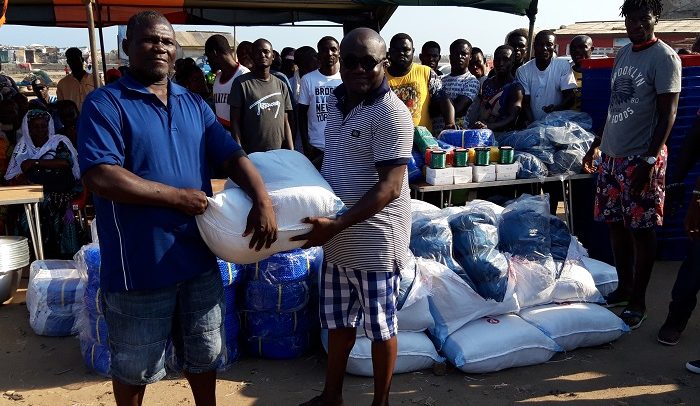 Bannerman Supports Fishermen
A scene during the donation
It was all joy at the
Jamestown Beach in Accra over the weekend when the National Chairman of the
Premix Fuel Committee, Nii Lante Bannerman made some donation to the fisherfolks
there.
They included 120 aluminium
basins, hook and line gear for 45 canoes, 120 rubber crates, 165 fishing nets
and cash amount of ₵200 each to some selected fishermen who have
been using unapproved nets in fishing to buy the approved nets for the purpose.
The donation which was worth
₵220,000 was made out of
monies generated from the sale of premix fuel at the beach.
The laws allow for 53% of
all monies generated from the sale of premix fuel to be set aside as a
Development Fund for each Landing Beach Committee (LBC) or fishing community.
The Ga Mashie A, B and C
Landing Beach Committees therefore decided to use their quota to purchase the
fishing gear for equitable distribution to the fishermen.
Last month, Mr. Bannerman purchased
fishing items for the fishermen in the area from his personal resources.
Mr. Bannerman expressed
appreciation to the fisherfolk for their continuous support with a promise to
do more for them in the coming months and years.
He used the occasion to deny
spurious claims by elements in the opposition which suggest that the price of
premix fuel has been increased.
He said that what the
Akufo-Addo led administration has done since taking over the governance of the
country has been to maintain the price whiles cutting down on the shortage of
the product and the rot that had been associated with the lifting and
distribution of premix fuel especially under the previous NDC administration.
He advised them not to allow
themselves to be deceived through cheap propaganda.
Present at the ceremony was the Administrator of Premix Fuel Secretariat, Nana Abrokwa Asare who took time to educate the fishermen on the punitive measures associated with the hoarding and resale of Premix fuel at exorbitant prices.
By Charles Takyi-Boadu