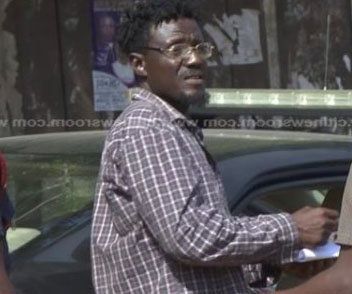 Bogus Informant Jailed 6 Months
Nana Bassaw
The 'informant', who deceived the
police about the supplier of the gun that was allegedly used in the gruesome
murder of the Takoradi Constituency treasurer of the New Patriotic Party, has
been jailed six months.
Nana Bassaw was convicted on his
own plea of being guilty after admitting that he lied to the police about
Anthony Mensah, the supposed gun supplier.
Mensah was arrested at Amanful, a
suburb of Takoradi, by a night police patrol team after a 'tip-off' from Bassaw.
He had told the police that it was
Mensah who supplied the gun used in killing Mark Ofori at his residence at
Fijai, near Sekondi.
However, investigations revealed
that Bassaw, also known as "Born Black", told a lie and it later turned out
that he did that on purpose so that Mensah would be in trouble.
It emerged that Bassaw and Mensah
had a grudge and during a fight, Mensah allegedly destroyed the mobile phone of
Bassaw without replacing it; hence, the reason he framed up Mensah for murder
allegations.
After the arrest of Mensah, Bassaw
managed to get the suspect's family to buy him his phone and then proceeded to
tell the police that he was misled and misinformed by a certain lady.
The 49-year-old Bassaw was put
before the Takoradi Harbour Circuit Court 'B' for deceiving public officers.
Bassaw pleaded guilty to the charge
and the court, presided over by Abigail Animah Asare, sentenced him to six
months' imprisonment.
"My Lord, I have kids and my wife
is deceased. I, therefore, plead with the court for mercy and Mother Ghana to
forgive me," Bassaw pleaded before the court sentenced him. 
Additionally, the court fined him a
250 penalty units or in default serve another six-month jail term.
Besides, he was made to sign a bond to be of good behaviour for two years or in
default serve two years in jail.
Sentencing the accused person, the court
said it took into consideration the punishment that Mensah would have suffered
if he was not able to defend himself to sentence Bassaw.
According to the court, the
sentence was also to deter the public from engaging in framing up people.
On Wednesday, October 30, the whole
of Takoradi was thrown into a state of shock when Mr. Ofori was found shot dead
at his residence.
The assailant reportedly went straight to the victim's bedroom and shot him in the chest, killing him instantly. Preliminary checks showed that the suspect did not take anything from the house.
From Emmanuel Opoku, Takoradi