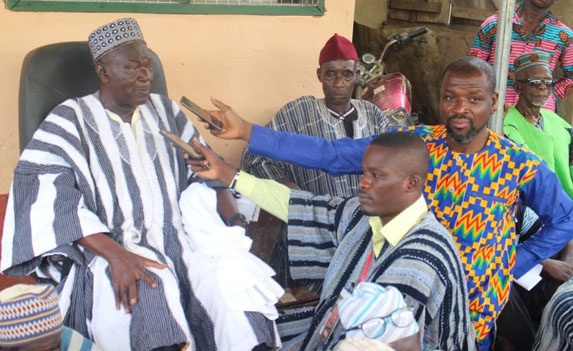 Bole-Banda Tension Heightens
Paramount Chief of Bole Traditional Area, Bolewura Safo Kutuge Feso
interacting with journalists at Bole
Tension is
mounting between the people of Banda in the Bono Region and Bole in the Savannah Region over the ownership of lands at Dokokyona, a
community in the area.
The chiefs and
people of Banda, who held a news conference at Banda Ahenkro in the Banda
District last Wednesday, threatened to defend Dokokyona and its surrounding
villages if the Gonjas do not stay off the land.
They gave the
government a two-week ultimatum to intervene in the matter.
The issue is escalating
because the Bolewura Safo Kutuge Feso I has reportedly enskinned Muniru Adams
as the Chief of Dokokyina who has assumed responsibility as the traditional
ruler of the community. 
The Bolewura organized
a news conference in Bole to state emphatically that Dokokyina, Gbabiape,
Sagpe, Sindi, Dablakura and Ntereso fall under his jurisdiction.
"We wish to say
that the status of Gonjas is well documented, but we urge the chiefs and youth
of Banda to be concerned with what unites Gonjas and them rather than engaging
in needless war threats that has the tendency to polarize the two tribes."
According to him,
even though Dokokyina lies within a Game Reserve, the area still falls under
the Bole Traditional Area.
"Dokoyina, by
custom and tradition, lies within the confines of the Bolewura, who has the
right and authority to enskin chiefs in the area."
"Shortly before
the demise of late Bolewura Awuledese Potonprong II, a delegation of elders
from Banda Paramouncy called on the then Bolewura with an appeal for the mutual
use of our lands for collective interest of Gonjas and Bandas. They came with
the traditional drinks and cola to make the appeal," he stated.
The Bolewura indicated that Gonjas are committed to peace and are ready to meet the people and chiefs of Banda to resolve the issues amicably to ensure development of the area.
From Eric Kombat, Bole