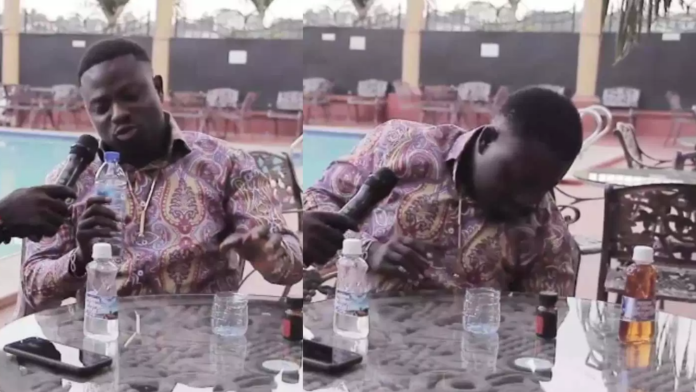 Gospel musician Brother Sammy has been trending on social
media.
He started trending after a video of him selling HIV/Aids and cancer medicines went viral.
According to him, he was directed by God to use dewdrops and other products such as insecticide, DDT, to make a 'Divine Water' that could heal many sicknesses and infections.
SEE THIS: Strongman speaks on Medikal's 'Last Burial' song
According to him, God revealed the universal antidote to him about three years ago, but he failed to heed the call.
The gospel musician was arrested by the Food and Drugs Authority (FDA) with some of his drugs taken for further laboratory tests.
RELATED: Gospel Artiste, brother Sammy arrested over HIV/AIDS drugs
But, speaking on Adom FM's Work and Happiness show on Monday morning, Brother Sammy said he wasn't perturbed by the situation.
According to him, he knows his secret, Jesus Christ, will
prove FDA wrong after they proceed with the test to inspect the formula for his
drug.
He further asked Ghanaians, especially some Christians who
believe in his ways, not to worry or insult the FDA for the "right arrest."
ALSO SEE: All you need to know about Strongman, Medikal's beef songs that have got social media buzzing
"FDA shouldn't be lambasted. They are doing their work. They have taken the healing water for lab test. I believe whoever they will give it to will be healed and the people will know the truth," he prayed in Twi.
"Everyone thinks nothing good can come out of Ghana. They think it's only the Whites who have to get the medicine. We don't believe in ourselves. Whoever they will give it to will be healed.
"I have lots of witnesses but it stigmatises people and many would not want to come out to testify. Now the FDA has it, so they should first test it."
He concluded by saying, "it was produced by Jesus and manufactured by God and marketed by the Holy Spirit."
Source: Adomonline.com | Dennis K. Adu