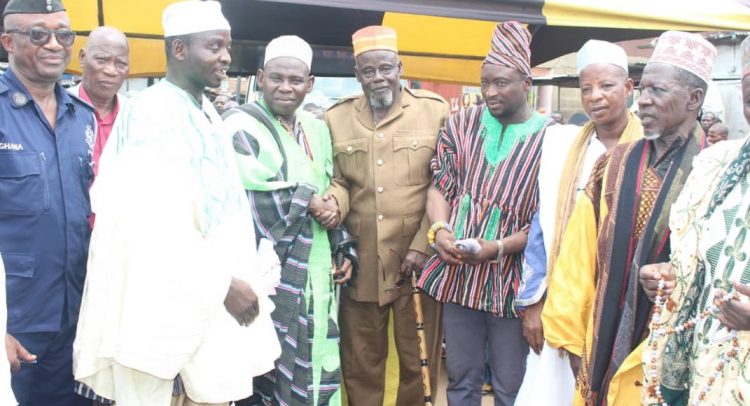 Chokosi, Konkomba Chiefs Condemn Clash, Call For Peace
Famey Zakari Naoma Watara (middle) hugging Ubor Abraham Bio. With them are other chiefs and the James Town District Police Commander
The
Greater Accra Regional Chiefs of Chokosi and Konkomba have condemned the clashes
that ensued between the people of Chokosis and Konkombas in the North East
Region, leading to the death of two people.
Addressing
a joint press conference at the Konkomba Market in Accra, the Chokosi Chief,
Famey Zakari Nasoma Watara, described the clash as baseless and a misunderstanding
between two individuals over a piece  of land.
He
said the two individuals could have spared them the long-standing good
relationship and neighbourliness existing between the Chokosis and Konkombas,
not only in Chereponi and Saboba homelands, but also across the entire length
and breadth of the country if they had reported the matter to the police
instead.
Adding
his voice, Ubor Abraham Bio, Chief of Konkomba, said the clash purported to
have resulted from a dispute over land within the Chereponi District had
claimed precious lives from both sides, including the destruction of property
running into millions of cedis.
He
said the clash had forced affected persons to flee the areas to neighbouring
Togo and some parts of the Northern Region.
Continuing,
he said the Chokosis and Konkombas had been neighbours for centuries and had
even intermarried, for which reason they shouldn't fight and kill each other
over a piece of land.
Ubor
Abraham Bio called on President Akufo-Addo and his government to take a close
watch on the security situation in the area and ensure normalcy returns to the
areas.
Present at the press conference were the Dagomba Chief, Malam Issah Abass; Wala Chief, Malam Mamada Amidu; Nawuri Chief, Malam Seidu Masilana; Gonja Chief, Malam Kadri Alemini; Basari Chief, Awudu Nyande; Kotokoli Chief, Alhaji Mumuni Salifu; Ewe Chief, Stephen Araa Sabah, among other chiefs.
(lindatenyah@gmail.com)
By Linda Tenyah-Ayettey