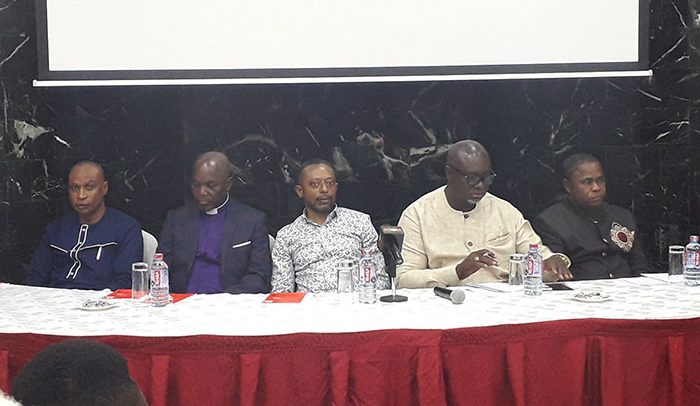 Christian Leaders Shouldn't Avoid Politics
Apostle Bempah(middle) together with Rev Osei (2nd right) and other dignitaries at the lecture
The founder and general overseer of the Glorious
Word Power Ministries International, Apostle Isaac Owusu Bempah has urged
Christian leaders not to shy away from politics as the spiritual growth of
every nation was largely dependent on the decision taken by its political
leaders.
He said that the art of politics should not be
regarded as alien to religion as God and Satan are politicians who use politics
to establish their dominion over all creatures.
"If you are looking for the number one
politician then it is God because he is on a mission of ensuring that all
creatures believe in him. On the other hand is an opposition leader called the
Devil who is also campaigning to win all souls" he said.
Apostle Bempah was speaking on the topic,
"the Role of Prophets in Nation Building" at a public lecture held in
Accra over the weekend.
The lecture was to commemorate the 50th birthday of
Apostle Bempah which also coincided with his 30th anniversary in Christian
ministry.
The occasion was also used to unveil a logo for
the year long celebration.
He indicated that the biblical reference had
shown that leaders of nations had spiritual heads who guide the activities and
decision taken by leaders of these nations.
"I am against the view the believers should keep
quiet and let our powerful leaders be taken over by the devil who will instruct
them on how to rule us. If that should happen, the favour of the lord would
depart from us.
"Anytime God chooses a king, he chooses a prophet
or a priest for him. God gave Elijah to Ahab, Zekiah to Isaiah while David and
Solomon had Nathan" he said.
The General Overseer of the Family Chapel
International Church, Reverend Victor Osei for his part said that nations
without 'prophets' are backed by occult powers.
"I hear people complain all the time that there
are too many churches, too many prophets, too many men of God around the
presidency. At the end of the day there are also too many beer bars, too many
prostitutes on the streets, too many gambling activities springing up all over
the country, so why complain about churches?" he queried.
Rev. Osei however put to question the genuineness of most people who claimed to be prophets by demanding that such people needed to show integrity by their words, character, relationships and prosperity as human beings.
By Issah Mohammed