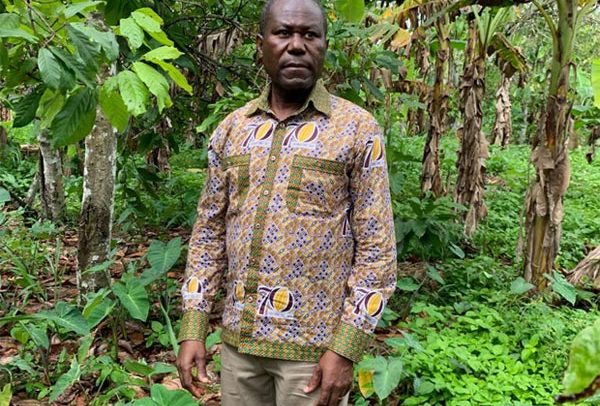 COCOBOD CEO Charges Farmers To Be Business Minded
Joseph Boahen Aidoo
The Chief Executive of the Ghana Cocoa Board (COCOBOD), Joseph Boahen Aidoo, has charged cocoa farmers to be business minded in operating their farms and to partake fully in the various programmes introduced by COCOBOD to ensure good farm yields and increased profits.
Good farming practices, like pruning, the timely application of fertilizers and proper pests control are essential at all times, he said.
Mr. Aidoo stated this while interacting with farmers in the Ashanti and Brong Ahafo Regions on the first day of his week-long tour of cocoa farms across the county.
He is accompanied by the Deputy Chief Executive of Operations at COCOBOD, Dr Emmanuel Opoku, as well as Directors and Research Scientists from the company.
The tour is aimed at assessing the level of farmer participation in the various farm productivity improvement programmes implemented by COCOBOD.
It is also aimed at gathering first-hand knowledge of the challenges facing farmers at different parts of the cocoa producing areas.
"As a cocoa farmer, you need to think of your farm as a business," Mr. Aidoo advised while interacting with Joe Bafour and his farm employees, during a stop-over on his eight acre cocoa farm in the Ashanti Region.
"And as a business person, you should always invest a portion of your profits back into your business."
"If you properly prune the crops, apply the right fertilizer at the right time and practice hand pollination, an acer of cocoa trees can yield 20bags worth of cocoa. Make sure to investigate the cost of at least two bags back into the farm," he says.
"One bag can pay for your fertilizers and another bag for pollination. You will still have 18 bags left. That is good business," he added.
The COCOBOD Boss was thankful to the farmers for their hard work and profound contribution to the nation.
He encouraged them to implement all of COCOBOD's productivity programmes to increase their produce.