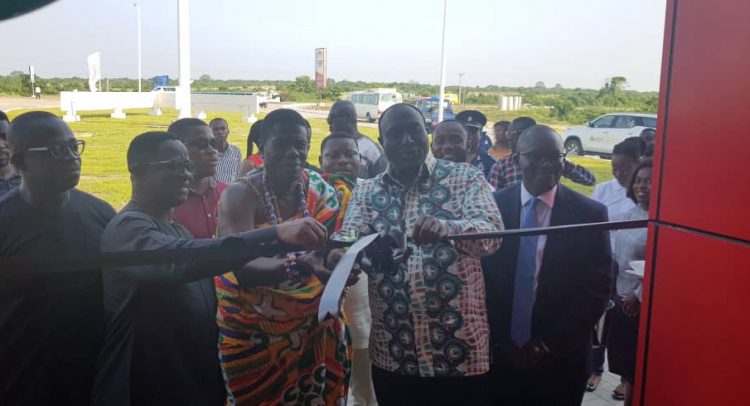 Dawa Industrial Park Inaugurated
Alan Kyeremateng cutting the tape for the opening of the park.
THE DAWA Industrial Park in the Ningo Prampram District of the Greater Accra Region has been commissioned to create jobs for unemployed youth in the country.
The industrial zone is purposefully designed to host a wide range of light and heavy industries as well as warehouses across various sector on the erected 22, 000 acres land.
It is fully funded by LMI Holdings, an ingenious private company at a cost of $80 million.
Commissioning the zone, Minister of Trade and Industry, Alan John Kwadwo Kyeremanten noted that the industrial enclave is consistent with government's industrial transformational agenda.
He said the park is one of many parks to be established across the country to assist factories with the provision of reliable power and access to warehousing facilities.
According to him, the project is a typical example of the Ghana Beyond Aid agenda, explaining that "When the President talks about a new Ghana Beyond Aid, this is a practical demonstration of what he is looking at for Ghana."
He indicated that the opening of the first phase of the industrial park will have an immense role for the economy, industrial growth and job creation efforts.
The Minister mentioned that government has ambitions to turn Ghana into a manufacturing hub to provide ample employment opportunity for citizens thereby saying that extra efforts would be invested to attract more investors into the park and also urged local administrators to create favorable conditions for investors.
For his part, the Chief Executive Officer (CEO) of LMI Holdings, Kojo Aduhene said the facility is estimated to house about 400 companies as occupants when completed.
Also, the Minister of Energy, John Peter Amewu also commissioned a 330 KV Dawa Power Substation built by Enclave Power Company (EPC) to distribute electricity to all industries and business located within the Dawa Industrial Zone estimated at $30 million.
The minister urged the company to involve local folks in line with government local content policy.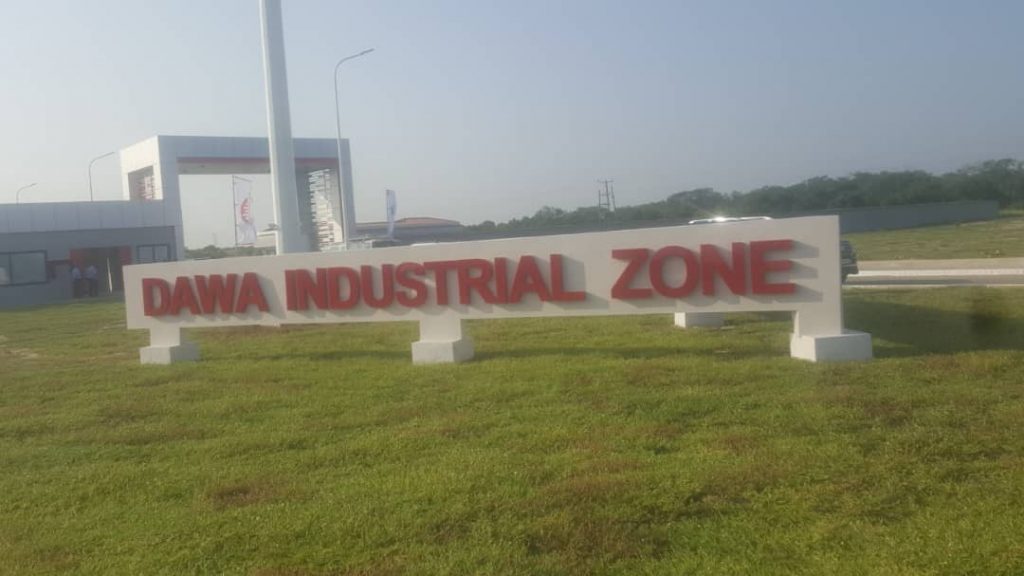 The front view of the Dawa Industrial Park.
He urged the power company to provide reliable and cost-competitive sources of electricity to its commercial and industrial customers.
Speaking at the commissioning, the Managing Director of LMI Holdings, Anku Norbet Cormla-Djamposu noted that the Dawa substation is the second substation to be built by EPC after the Tema Free Zone substation.
He said the project include provision of a well-developed 34.5KV distribution network to reliable and adequately serve all prospective customers at the park.
"The construction of the substation well in advance of customers moving into the DIC assures potential investors of access to adequate and reliable electricity, a key input for industrial operations. Investors choosing ton site within the DIC can be sure to have the most stable and reliable supply of electricity that can be found within Ghana," according to him.
From Vincent Kubi, Dawa