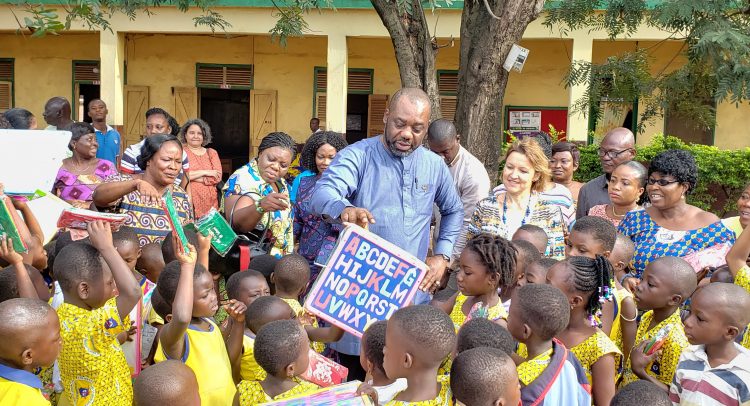 Don't Underrate Public Schools – Napo
Napo distributing free learning aids to the fresh kindergarten pupils
THE MINISTER of
Education, Dr. Matthew Opoku Prempeh, has urged pupils in the public schools to
take their education seriously in order to chalk up success in life.
According to him, being enrolled in a public
school does not mean one would not be able to climb high the academic ladder;
therefore, he stressed the need for pupils to always attach seriousness to
their studies.
Using President Akufo-Addo and former President
John Agyekum Kufuor as a case study, he said these important personalities attended
public schools in their youthful ages, yet they managed to become successful in
life.
My First Day At School
The minister was speaking when he embarked on a
'My First Day At School' tour on Tuesday, which saw him visiting about eight public
schools in Kumasi in the Ashanti Region.
According to him, government would continue to do
its best to resource the public schools to give the best of education and
training to pupils, especially at the basic level. He entreated pupils in the
public schools not be swollen-headed; rather they should attach seriousness to
their education.
Mr.
Prempeh indicated that education is the best tool to narrow the gap
between the rich and the poor in society, and advised the youth to channel their
time and energy to study hard.
He visited the KO Methodist, St. Joseph
Experimental (KonaduYiadom), Afia Kobi, Odumase Extension, New/Tafo Dichemso MA
Basic School and others.
Accompanying the minister on the tour were Anne-Claire
Dufay, UNICEF representative in Ghana; the Ashanti Regional Education Director,
Mary Owusu Achiaw; and other top dignitaries.
Free Learning Aids
Napo also used the visit to present free
learning aids, including pencils, crayons, sharpeners, books and other
materials to pupils who were being enrolled in kindergarten for the first time.
He explained that the free gifts were intended to motivate the fresh
kindergarten pupils to aspire higher.
UNICEF Boss 
Anne-Claire Dufay, on her part, lauded Ghana
for its dedication and commitment in the affairs of children, saying that she
was thrilled about government's interest in education.
Besides, Madam Owusu Achiaw entreated the teachers
to help make the pupils enjoy their stay in school. In that regard, she
admonished teachers to exhibit fatherly and motherly love to the pupils,
especially the fresh kindergarten pupils, so that they would freely attend
school all the time.
FROM I.F. Joe Awuah Jnr., Kumasi