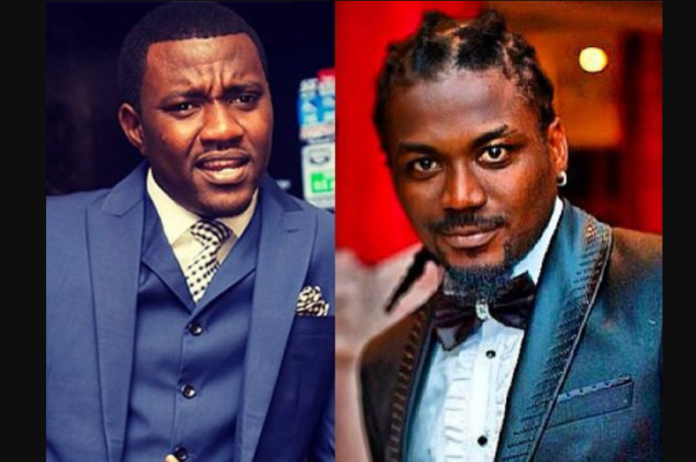 Actor John Dumelo has asked Samini to work hard if he wants to own a V8 Toyota Land Cruiser vehicle after Samini descended on him on Twitter, querying him about keeping a state asset.
Samini has accused John Dumelo of not having the moral turpitude to join the ongoing social media protest over the proposed construction of a new parliamentary chamber.
READ ALSO: Joe Mettle thrills patrons at 'Wind of Revival' concert
According to the dancehall musician, Mr Dumelo has an ultimate question to answer regarding a state-owned V8 Toyota Land Cruiser car that was in his possession after 2016 elections.
John, who initially felt reluctant to respond to Samini, eventually did by asking him to work hard so he could upgrade from a 2017 V8 to a 2019 V8, saying, "this is upgrade not highgrade."
ALSO READ: 'Old Town Road' rapper Lil Nas X bashed on social media after coming out as gay
But Samini in a riposte politely asked Dumelo to answer if he tried to keep the 2017 V8 vehicle or not as media reports suggested Mr Dumelo tried to conceal the identity of the car.
It didn't end there as Samini again asked the actor to prove
with proof to null his allegations.
"You've not answered my simple question Mr Dumelo. Did you try to keep the 2017 v8 as rumored or not. Did you try to change the car at the "sprayer "en shop or not? 😂If yes you are not ready for this my brother. If no then just say "No I did not". With proof. #highgrade is me [sic]," Samini tweeted.
Check out the tweets below: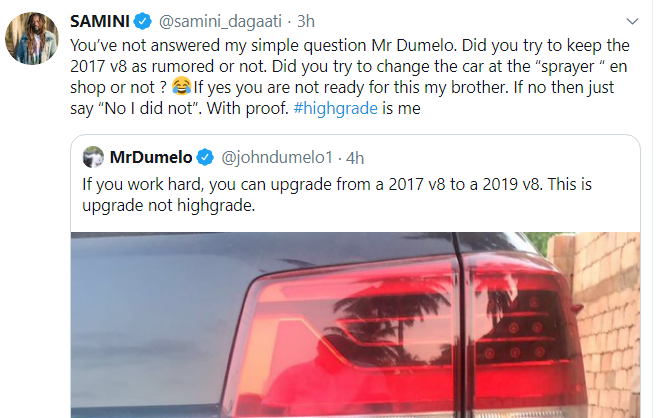 Source: Adomonline.com/ Dennis K. Adu