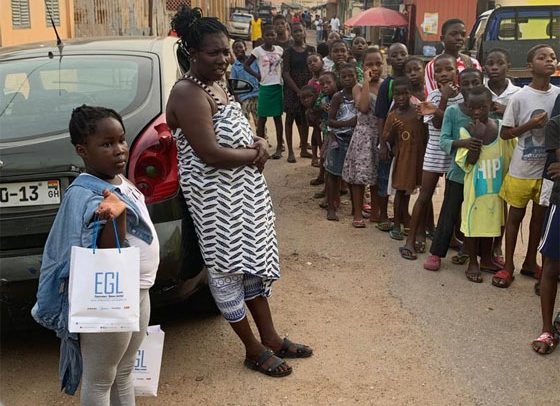 Electroland Shows Less Privileged Love
The beneficiaries awaiting their turn for the goodies
Electroland Ghana Limited (EGL), as part of giving back to the society during the Easter festivities  visited some deprived communities resided by less privileged kids, street hawkers, head porters (kayayei)
The electronic and home
appliances giants surprised the communities  with packs of food and drinks
for over thousand people.
Areas visited included
Sodom  and Gomorrah in Agbogbloshie, Kawu Kudi traffic light, 37 Military
Hospital  Area, Tema Station, James Town and Circle.  
  Marketing and
Public Relations Officer at Electroland Ghana Limited Adiza Ibrahim Sadiq,
reiterated the need of given back to the society especially during festive
seasons.
She said "I believe this is a
day the less privileged wish to also enjoy basic things in life like a proper
meal and so when you make it happen for them, it goes a long way in touching
their hearts." 
The Marketing and PR Officer
added "At EGL, giving back to the society is placed at the very top of our core
values, it's a must and not an option and so at every given point and in our
own special ways we love to make the less ones happy by visiting their homes
with happiness."
Electroland is the brand owner
of NASCO and biggest distributors of SAMSUNG and Midea Electronics and
appliances in Ghana.