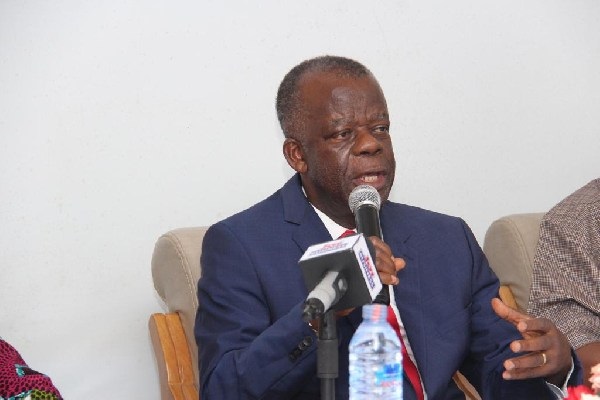 Ex-EOCO Boss Cleared
ACP K.K. Amoah
Former Executive Director of the Economic and Organised Crime Office (EOCO), ACP K.K. Amoah and two other persons have been cleared of a contempt of court against them before an Accra High Court.
Gideon Delali Deklu, a disgruntled former employee of
EOCO, who was dismissed for insubordination in 2018, filed the suit against his
former boss and the Managing Director of GCB Bank Limited, Anselm Ray Sowah, as
well as the High Street Branch Manager of the bank, Francis Nyarku. 
The suit followed the dismissal of the employee on the
recommendation of a disciplinary committee of EOCO and a further order on his
bankers GCB to freeze his account and transfer the accrued funds in the account
to the Controller and Accountant General's Department (CAGD).
The applicant filed an application for judicial review,
challenging the decision of EOCO to direct the bank to place an embargo on his
bank account.
Delali Deklu, in his application, contended that while
the application was pending before the court, he was issued with a dismissal
letter and a further instruction to GCB Bank to return the withheld funds to
the Controller and Accountant General's Department.
That, he averred, was willfully done by EOCO to bring
the administration of justice into disrepute and make nonsense of the outcome of
his application for judicial review.
EOCO, in its reaction to the affidavit, argued that
Deklu was dismissed following the report of a duly constituted disciplinary committee,
which he appeared before in the company of his lawyer.
EOCO argued that the fact that the applicant had filed
the application did not prevent it from dismissing him based on the
recommendation.
It added that the decision to transfer the accumulated
funds to the Controller and Accountant General was to protect the public purse
and that the dismissed applicant had not filed any process against his
dismissal.
Lawyers for GCB Bank also contended that despite the
directive from EOCO to transfer the funds to CAGD, it transferred the funds
into a suspense account pending the determination of the suit.
This, according to the bank, was because it had noticed
that the dismissed employee was still making withdrawals from the account,
which was the subject matter of the suit before the court.
The court, presided over by Justice Novisi Afua Aryene, at the end of the hearing, dismissed the application, saying it lacked merit and awarded a cost of GH¢500 against the applicant.
By Gibril Abdul Razak