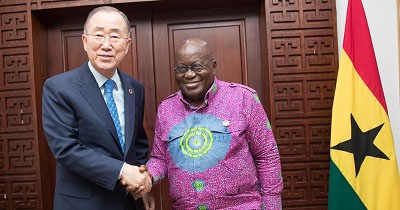 Ex-UN Boss Lauds Nana
President Akufo-Addo greeting Ban Ki-Moon
Former United Nations (UN) Secretary-General Ban Ki-Moon has commended
President Akufo-Addo and his government over their handling of the economy.
He believes Ghana is making great 'economic strides' under the
leadership of President Akufo-Addo, saying "under your leadership, your country
is making great strides in economic development."
The former UN boss said the IMF's prediction that Ghana would have
almost 7% annual growth was an indication that the current government was doing
something right.
"Many countries, including Korea, are growing just about 2 to 3 per cent,"
he said and added that Ghana growing around 7 per cent was a good story to
tell.
Mr. Ki-Moon, who was in the country to attend Africa Netpreneur
Prize initiative, a Chinese billionaire, Jack Ma, flagship entrepreneur programme
in Africa promoted by Jack Ma Foundation, also visited the graveside of the
late and former UN Secretary General, Kofi Annan, to pay his respects to the fallen
Ghanaian global icon.
President Akufo-Addo commended Mr. Ki-Moon for spearheading the
development of the UN Sustainable Development Goals (SDGs).
He had a fond memory of when he first met the former UN envoy saying
"we met when you were Foreign Minister of Korea and I was then Foreign Minister
of Ghana; we struck up a good relationship and that is what led me to be almost
your campaign manager."
"I never regretted because your performance as Secretary-General was
something that vindicated all of us who believed in you," President Akufo-Addo
said.
Ban Ki-Moon was the eighth Secretary-General of the United Nations
and served two terms.
His priorities had been to mobilize world leaders around a set of
new global challenges, from climate change and economic upheaval to pandemics
and increasing pressures involving food, energy and water.
One of the Secretary-General's first major initiatives was the 2007
Climate Change Summit followed by extensive diplomatic efforts that have helped
put the issue at the forefront of the global agenda.
At the height of the food, energy and economic crises in 2008, the
Secretary-General successfully appealed to the G20 for a $1 trillion financing
package for developing countries and took other steps to guide the international
response and protect the vulnerable and the poor.