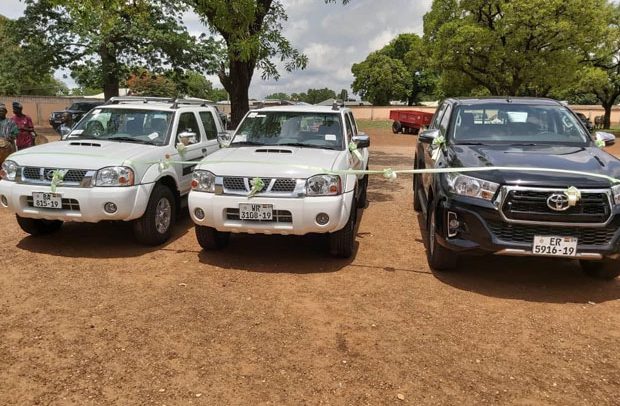 GH¢10,000 Reward For Savannah Missing Pickup
The Savannah Regional Coordinating Council has announced that it is offering GH¢10,000 reward for anyone whose information will lead to the arrest and retrieval of its White Toyota Hilux with registration No. ER 3516-19 which was allegedly snatched by armed robbers.
The Northern Regional Police Command has urged the public to intensify their assistance to the police to track the supposed robbers.
Alhaji Suleimana Illiasu and Opoku Kwadjo Evans were arrested on July 18, 2019, by the Northern Regional Police Command in connection with the missing Toyota Hilux belonging to the Savannah Regional Coordinating Council.
Opoku Kwadwo has since been released on police enquiry bail.
It would be recalled that Sulemana Illiasu reported to the police that on July 4, 2019, the Savannah Regional Minister, Salifu Adam Braimah, was travelling to Accra by flight for a meeting and parked the Toyota Hilux pickup with registration number ER 3516-19 at his house.
According to him, on 16th July, two armed men wielding AK47 rifles came to his house and robbed him at gunpoint.
In the process, the robbers took away his iPhone 7plus and Samsung A6plus mobile phones and GH¢ 200.
He told police that the robbers took him to an unknown location where they dropped him off and bolted with the vehicle.
Since the incident, the minister has said he takes responsibility. He said on Citi FM recently that he entrusted the vehicle in the care of his driver and his close friend while embarking on a trip.
"The driver dropped me off and I told him to keep it with a friend until I come back from Accra. I told my driver to keep it with a friend because this is not the first time I have done this. Just that this happened to be a state vehicle," he said.
However, the opposition NDC has not relented on putting pressure on him to find the vehicle.
The Savannah Regional NDC Secretariat issued a five-day ultimatum to the regional minister to produce the vehicle but the time elapsed.
FROM Eric Kombat, Tamale