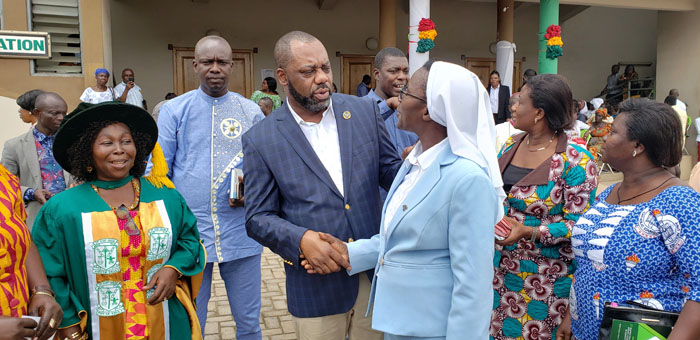 GH¢4.6m For Colleges Of Education
The education minister in a hearty chat with some officials of St Louis College of Education
GOVERNMENT HAS launched a staggering Gh¢4.6
million Transition Support Fund for the 46 public Colleges of Education in the
country.
The laudable move is among other things, geared towards giving
a financial cushion to the colleges of education to deliver on their mandate of
training quality tutors.
The Minister of Education, Dr. Matthew Opoku Prempeh,
launching the fund, stated that "it is aimed, mainly, to make you a better
teacher for mother Ghana".
He was speaking during the 15th annual Graduation Ceremony of
the St. Louis College of Education in Kumasi, in the Ashanti region, on Friday.
Dr. Opoku Prempeh popularly known as 'Napo' said the colleges
of education in the country would access the funds for professional upgrading
and development.
He also explained that the fund seeks to upgrade the
qualifications of teaching and non-teaching staff in the various colleges,
thereby leading to efficiency.
"The fund will help to support the Ministry of Education's
ongoing efforts to ensure that all tutors have at least a Masters Research
Degree by 2022", he remarked.
"The fund is an investment the ministry is making with the
assistance of UK aid through the Transforming Teacher Education and Learning in
Ghana Programme", he added.
Napo stated that the colleges of education needed to meet
some standards before they could access the fund, saying "there will be no
partial payment for failure".
Napo also justified government's decision to embark on
rigorous reforms in the education sector, saying statistics about Ghana's
education for three decades was appalling.
According to him, the creme-de-la-creme in the academia had
been assembled to make the necessary reforms in the educational sector to benefit
the country.
The minister pointed out that the various reforms in the
educational sector had nothing to do with partisan politics, saying the reforms
were in the interest of the country.
Napo also said Professional Examination for Teachers in the
country is intended to protect the image of the noble teaching profession so
all should support it.
The event was under the theme 'Equipping Teacher Trainees
with Professional Attitudes, Values, Knowledge and Practice to be Agents of
Societal Transformation'.
Napo entreated the fresh graduates to be discipline, hardworking and punctual at work at all times so they can train the youth to become useful to the state in future.
FROM I.F. Joe Awuah Jnr., Kumasi