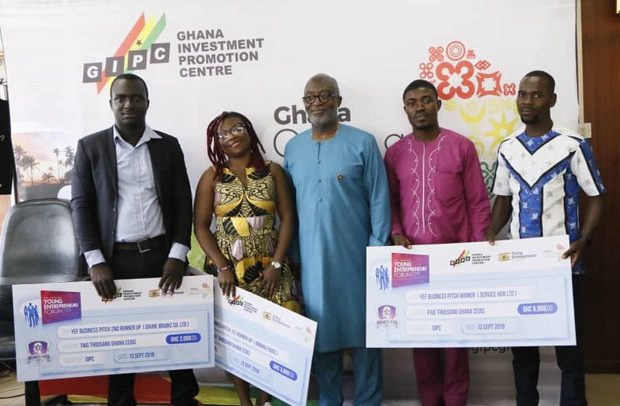 GIPC Supports Young Entrepreneurs
Mr Yoofi Grant (middle) with the award winners
The Ghana Investment Promotion Centre (GIPC) has presented prize packages to the pitch winners of the 3rd edition of the GIPC Young Entrepreneurs Forum (YEF).
The winners beat other competitors in the keenly contested pitch session judged by five successful business owners and professionals to receive support in various forms for their businesses.
Trimester Save, a fintech plus innovative solution for maternal health initiated by Service Hub Limited emerged overall winner of the pitch session and won an amount of GH¢ 5000.
Omama Foods and Divine Brainz, both agric companies dealing in the processing of nuts and cereals respectively, were adjudged first and second runners-up and received GH¢ 3000 and GH¢ 2000 respectively.
Presenting the awards to the winners, Chief Executive Officer (CEO) of GIPC, Yoofi Grant, congratulated the winners for their achievements, adding that all top three companies will be absorbed into the MEST Accra incubation.
"To add to this, these front-runners will receive equity financing from Quick Angels as a Supporting Sponsor for the event and will be automatically absorbed into the National Entrepreneurship Innovation Programme (NEIP)," he said.
Mr. Grant said this year's YEF held under the theme, "Connect. Accelerate. Grow: Breaking Boundaries" was to promote dialogue between young entrepreneurs and government to influence policy formulation and provide leadership and entrepreneurship training for young entrepreneurs.
Highlight of the event, he said, included an exhibition and opportunity for 13 young entrepreneurs to pitch their business ideas to fund managers during the business pitch session.
"The presentation today is in fulfillment of GIPS'c pledge to the winners of the session. This is to encourage interests and participation for future pitches," he added.
Elvis Kuma Forson on behalf of the winners expressed their gratitude for the support and assured that they will use the resources to accelerate their businesses.
By Jamila Akweley Okertchiri