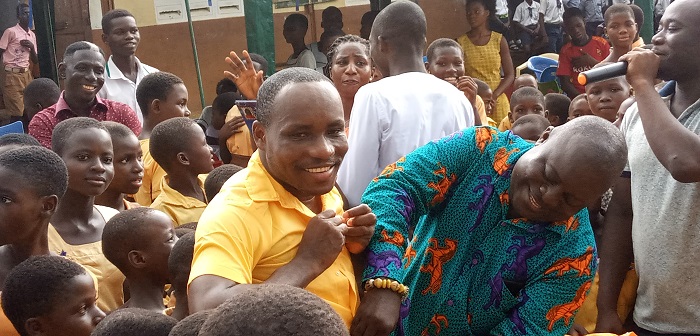 Gov't Saves Ellembelle Pupils
Kwasi Bonzoh wearing one of the school uniforms in a photograph with some of the pupils
DAILY GUIDE has learnt that some school pupils of Krisan,
Sanzule and Atuabo in the Ellembelle District of the Western
Region regularly absent themselves from school due to lack of suitable school
uniforms.
The situation, according to sources, sometime
demoralizes the pupils and affects their academic performances. 
As a result, the Akufo-Addo government has begun
distributing sets of uniforms to schoolchildren in the communities
for free in fulfillment of its free uniform policy for schoolchildren
in deprived areas. 
Making the presentation of the first 200 school uniforms to the pupils
at Sanzule D.A. Primarily and Junior High School, the District Chief Executive
(DCE) for Ellembelle, Kwasi Bonzoh, said that the distribution of the free
uniforms should serve as a motivation to the pupils to be in school and to
raise the standard of education in the district.
The DCE pointed out that the initiative was also to complement the efforts of
the parents in taking care of their children in the basic schools.
He urged the parents to encourage their children to ensure they
completed the academic ladder in order to be self-reliant and useful to
society.
Mobile Library
In a related development, the Ghana Library Authority (GLA) in
collaboration with the District Assembly sent a library van to the area as part
of the celebration of this year's Mobile Library Van Day.
Acting Western Regional Librarian Madam Mercy Ackah said the
mobile library concept was introduced to assist schoolchildren in remote
areas where access to library was not available. 
She, therefore, appealed to other organizations and
philanthropists to recognize that a reading nation was a winning nation and to
assist the mobile library idea to be extended to schoolchildren in deprived
communities.
She disclosed that the GLA was revamping all libraries it has
across the regions and was looking forward to adding more so that more people
could have access to library facilities.
The Ellembelle DCE, Kwasi Bonzoh, said the move was also to ensure
the children started reading at a very early age. He called on schoolchildren
to cultivate the habit of reading to enable them to improve their knowledge of
the English language.
He also urged parents and guardians to encourage their children and wards respectively to acquire the habit of reading and also invest in their education.
From Emmanuel Opoku, Sanzule