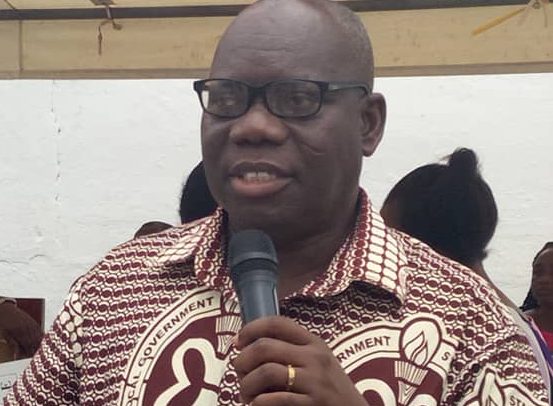 Greening Sekondi-Takoradi Project Launched
Anthony Kobina Kurentsir Sam
The Metropolitan Chief Executive (MCE) for the Sekondi Takoradi
Metropolitan Assembly (STMA), Mr Anthony Kobina Kurentsir Sam, has disclosed
that the Assembly is in the process of reviewing its by-laws to enact laws
punitive enough for culprits who flout the Assembly's directives to preserve
trees and urban forest. 
He also bemoaned the indiscriminate felling of trees in the
Metropolis and charged the media to execute its watchdog role by devoting more
space and time to issues on tree planting and forest conservation to ensure the
beautification of the metropolis.
Mr. Sam was delivering a keynote address at a capacity building
workshop on urban and peri-urban forestry aimed at greening the Western
Regional capital, Sekondi-Takoradi.
It was organised by Goshen Global Vision (GGV), a Non-Governmental
Organisation (NGO), and sponsored by the United States Forest Service
International Programme at a cost of US$30,000.
The multi-stakeholder workshop was on the theme, Urban and
Peri-Urban Forestry: "Greening the Sekondi-Takoradi Twin City". 
He indicated that the project was in tandem with government's
flagship projects such as planting for food and jobs hence the Assembly would
support it to succeed.
He noted that the Assembly had embarked upon one child, one
tree-planting project in schools in the Metropolis to create awareness and
safeguard the threat posed by climate change.
The MCE, popularly called K.K Sam, noted that the success of the project
depended on mass participation and urged residents in the city to get on board
to sustain it.
The MCE mentioned that the assembly had also started planting
coconut trees along the beaches as part of its tree-planting projects.
Mr Sam added that the Assembly in collaboration with the Ministry
of Tourism, would protect the Monkey Hill Forest Reserve in Takoradi and
fashion out a programme and strategies for greening the city.
Dr Bertrand Nero, a Lecturer at the Department of Forest Resources Technology
at the Kwame Nkrumah University of Science and Technology (KNUST), in a
presentation, indicated that the Sustainable Development Goal (SDG) mandated
all urban and peri-urban areas to have access to greening environment.
Dr Nero noted that urban expansion in Takoradi between 1991 and
2008 was enormous with special reference to Effia-Kwesimintsim, Sekondi,
Takoradi and Essikado-Ketan.
He called on policymakers to embark on spatial planning in Sekondi-Takoradi and make the area an Eco-city instead of making it a compact city.
From Emmanuel Opoku, Takoradi