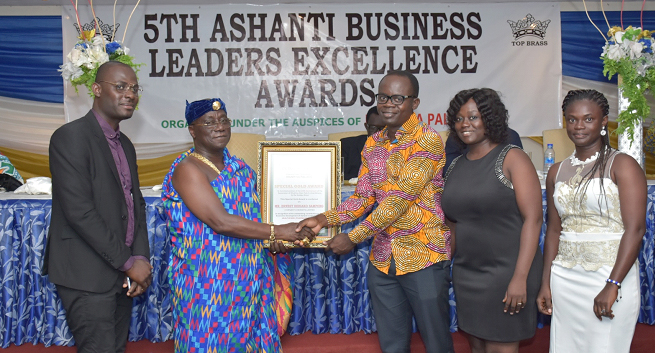 Harness Abilities Of Workers Says Otumfuo
Vincent Boakye, Medical Representative, receiving a Special Gold Award in the Healthcare Category from Baffour Agyei Kesse on behalf of Ernest Bediako Sampong, Chief Executive Officer, Ernest Chemists Limited
The
Asantehene, Otumfuo Osei Tutu II, has urged business leaders to harness the
latent abilities of their workers.
According
to him, a specialised skill that is outstanding would often make a company
stand out above all its competitors.
His
call was contained in a speech read on his behalf by Adumhene, Baffour Agyei
Kesse, during the 5th Ashanti Business Leaders Excellence Awards
held in Kumasi. The occasion commemorated the 20th anniversary of
the assumption of the Otumfuo to the throne of the Ashanti Kingdom.
He
said, "A major challenge confronting businessmen is how to make their employees
proud of their capabilities and have the desire to increase such capabilities
to hence productivity".
He
commended the Bank of Ghana for showing courage in taking decisions to dissolve
some banks 'at the time it did rather than delay further to make a bad
situation worse.'
He
asserted that ample evidence pointed to the precarious condition the seven
banks were in but the apex bank couldn't address the situation.
Dr.
Ibrahim Mohammed Awal, Minister of Business Development, who was the guest of honour,
stated that government was in the process of implementing three business
promotion programmes across the country from which the Ashanti Region would have
its first share of benefits.
He said
that under the Training for Young Businessmen module, a trainer from Spain
would offer business oriented training to 400 trainees in the Ashanti Region.
Also, 300 young businessmen and women from Ashanti would receive financial
support under the Young Businesses Fund, while 100 beneficiaries from the
Ashanti Region would be covered under a fund to support physically challenged businessmen
and women.
Dr.
Awal explained that the former fund would attract only a 10% interest, whereas
the latter would attract no interest at all with 50% of the facility being free
from re-payment.
According
to Mr. Isaac Dakwa, Director of Top Brass Ghana, the organisers of the awards
scheme, previous Ashanti Business Leaders Excellence Awards Ceremonies had been
limited in scope to business leaders based in the Ashanti Region, but on this
special occasion to mark Otumfuo's 20th anniversary, it was decided
to recognise deserving business leaders located outside Ashanti, but whose
products and services have a positive impact on the economic development of
Ashanti.
The awards
ceremony was chaired by Eng. Prof. Mike Agbesi Acheampong – Ag. Vice-Chancellor
of Kumasi Technical University.