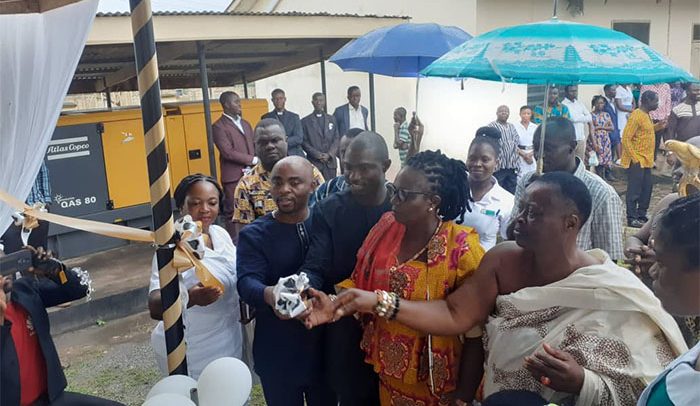 Headlamps For Surgeries Ends At Worawora
The Dignitaries, including the GNPC Foundation CEO, Dr. Dominic Eduah (middle) cutting a tape to unveil the Generator Set
The Worawora Government
Hospital in the Biakoye District of the Oti Region will no more resort to the use
of headlamps for surgeries.
This is because the
Ghana National Petroleum Company (GNPC), through its foundation, has donated a
110 KV generator to ensure the hospital operations, especially surgeries, are
not hindered when power from the national grid is truncated. 
The Medical
Superintendent of the hospital, Dr. Isaac Secorm, said the facility established
in 1951 would benefit immensely from the GNPC Foundation's gesture, describing
it as "timely and life-saving."
He recounted how on
several occasions doctors and nurses had to use headlamps like hunters to save
lives because there was no electricity.
"Indeed, when the lights
go off, we become like hunters with headlamps on our forehead to conduct
surgeries. We will be hunting parts of the body to save lives," he said.
He indicated that the
hospital had an 85KV stand-by generator which was brought in 2008 and had
become weak, thereby experiencing frequent breakdowns.
He stated that in spite
of the teething problems at the hospital, they persevered to save lives.
The Biakoye District
Director of Health Services, Rita Ama Wurapa, said the gesture would help the
hospital which serves the Biakoye District, Krachi East, Kadjebi and parts of
Jasikan to respond to referral cases on time.
She said the hospital
records an average of 130 out-patient attendants, 560 in-patient admissions
monthly and 110 deliveries including 36 caesarean sessions.
She disclosed that the
hospital currently lacks facilities like mother's lodge, pickup vehicles,
staff, accommodation, ambulances and other sophisticated medical
equipment. 
The CEO of the GNPC
Foundation, Dr. Dominic Kwesi Eduah, urged the hospital staff to take good care
of the generator which is estimated at about GH¢150,000 and added that
the foundation was committed to improving the lives of vulnerable people.
Meanwhile, the Akwamuhene of Worawora, Nana Osei Bonsu, on behalf of the Worawora Traditional Council, also donated defibrillator (a device that helps to restore the normal heartbeat of a patient when the heart is not working normally) to the facility. He assured the hospital of the continuous support of Woraworaman.     
From Fred Duodu, Worawora (k.duodu@yahoo.com)