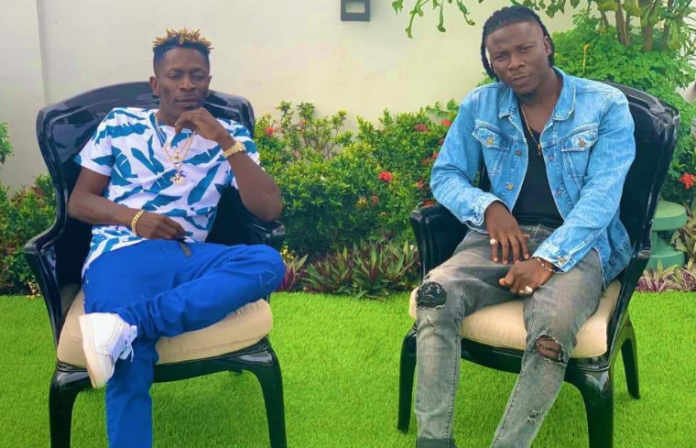 Ghanaian award-winning reggae/dancehall musician, Stonebwoy has urged Ghanaians and the media, especially to sing praises more than faults when it comes to lauding their works.
Stonebwoy has been pushing his brand abroad in the past few weeks where he has performed in four countries in seven days and counting in Europe.
According to him, he feels 'lonely' playing gigs outside the country because the patronage and media reportage are not enough to blow his works.
SEE THIS: Video: 50-year-old Stephanie Benson's morning exercise causes stir
Stonebwoy added that, some bloggers are quick to publish negative stories such as the Vodafone Ghana Music Awards (VGMA) fracas that happened between him and Shatta Wale but forgo positive ones which are equally important to project his brand.
Citing an instance, he said he was happy when bloggers and the mainstream media highlighted Shatta Wale's proposed deal with one of American's top beer manufacturing companies, Budweiser. "It should be the norm when it comes to reporting news," Stonebwoy said.
Speaking on Daybreak Hitz on Hitz FM, monitored by Adomonline.com, the 'Tuff Seed' hitmaker said the media should emulate how Nigerians hold down their musicians whether they pay for promotions or not.
"Nigerians are doing it and I feel it more when I travel outside. I feel lonely. I don't wanna bash anyone but we have to address our own issues. The most I can do is to be pushing to get far. It's not highly compulsory that you have to work with publicist… Even if you're booked and you try to get your lyricists you are told only one room is provided.
MORE: Shatta Wale on verge of landing another mega-deal with renowned beer, Budweiser
"The potential, we are out there but we aren't out there, so I was happy when I saw the Budweiser move of my brother [Shatta Wale] and I wish those ones would be louder than the [VGMA] 'yawa'. King Promise and myself were headliners for Afronation but they brought their own people to headline the days. Davido headlined a day, Buju played, I played and Burna Boy played later. They have an agenda to put themselves first. When we get up it will spread across. We have to sing our praises the more than our faults," Stonebwoy said.
But, reacting to Stonebwoy's allegation on the same Daybreak Hitz show, Mr Logic disagreed with him and said the media could not amplify his works by force.
According to him, just as Stonebwoy sorts out his crew members financially, he should not be worried to pay bloggers to put his works out.
Mr Logic was of the view that as big as Stonebwoy believes he is, he doesn't need to rely solely on free hype to exhibit his craft because "bloggers buy data and need to be paid."
Source: Adomonline.com | Dennis K. Adu