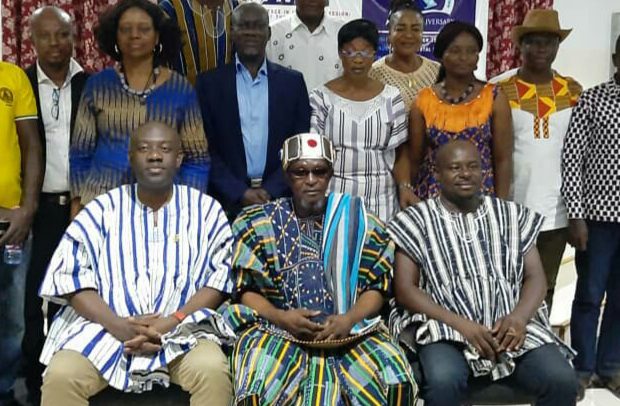 Info Minister Launches UE GJA Awards
Group picture (Information Minister sitting left, Bonaba Salifu Alemyaarum-middle and GJA Chairman-right)
In the face of an upsurge in social media use, Information Minister Kojo Oppong Nkrumah has urged journalists to maintain high journalistic standards in the country.
Addressing journalists in Bolgatanga in the Upper East Region at the launch of the maiden Ghana Journalists Association (GJA)-Upper East Regional Awards, the minister asked journalists to always be guided by the ethics of the profession in order not to jeopardize the peaceful atmosphere the country is enjoying.
According to him, despite the presence of social media, many Ghanaians still rely on the traditional media to authenticate the information they come across in the social media.
Mr. Nkrumah acknowledged the enormous contributions of journalists to the development of the country and said they had helped in shaping and promoting Ghana's democracy.
However, he noted that in recent times some negative media reportage had, to a large extent, dented the image of the country to the investor community.
The Upper East Regional Chairman of the GJA, Eric Amoh, commended media practitioners in the region for the role they had played so far in putting duty bearers on their toes and attracting some developmental projects to the region.
He said the purpose of the awards scheme was to recognize the role of journalists and to encourage them to do more in the future.
The maiden GJA-Upper East Regional Awards is under the theme: "Sustaining the Peace in Upper East Region: The Role of the Media".
In all, 11 awards are to be given out to deserving journalists in the Upper East Region.
FROM: Ebo Bruce-Quansah, Bolgatanga