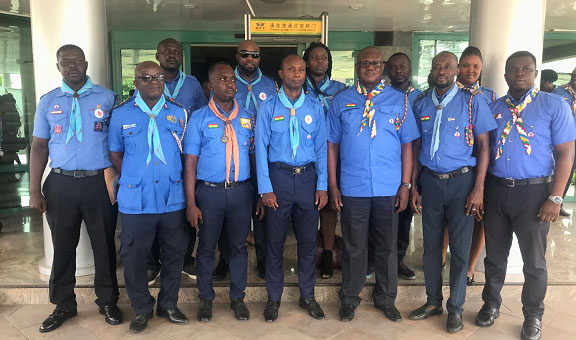 International Scouts Fellowship Launch Confab In Accra
President of the ISGF Ghana Prosper Bani (3rd from right) and some executive members
The Ghanaian branch of the
International Scouts and Guides Fellowship (ISGF) has launched its 3rd
ISGF Africa Regional Conference under the theme: "Discovering the Potentials in
Africa: The Role if Adult Scouts and Guides."
The three-day conference is scheduled
to take place from April 30 to May 5 at Abokobi in Accra, this year.
Addressing the media at a short ceremony
in Accra, the President of the ISGF Ghana – Prosper Bani – stated that the 3rd
Africa Regional Conference would focus on boys' scouts and girls' guides
empowerment and holding elections for the new Africa executives. Besides, an
agreement would be made on some principles to govern the management of the ISGF
Africa.
According to him, the ISGF Ghana works
with National Scouts Association (NSA) and National Girl Guides Association (NGGA)
to unearth the potentials of scouts and guides, because it is important to
begin the journey of transforming our economy and society
with the youth.
The ISGF Ghana hopes to visit
schools and other institutions to inform or extend the activities of scouts and
guides as it used to be in the past.
Deputy Chief Fellow Edward Mettle
Nunoo stressed that scouting and guiding is for life.
The Chairman
of the National Media Commission, Kabral Blay Amihere, in his address, commended
the good efforts of the scout and guide associations and opined that it is
important to ensure serious drive to mobilise more boys and girls to join the
scouts and guides movement.
He made this
known as a result of no or little information about the activities from the
boys scouts and girls guides these days, and suggested the adoption of the
technological advancement tools for this purpose.
"It is in
this era of social media that the scouts and guides can enjoy high visibility
and corresponding popularity," he added.
He also indicated that organizations such as National Commission for Civic Education (NCCE) could play a role in the education of the public about the scout associations because youth organizations could be the most effective ways of passing on social, moral and related values in children which they may not depart from when they become adults.
By Brimah Mohammed