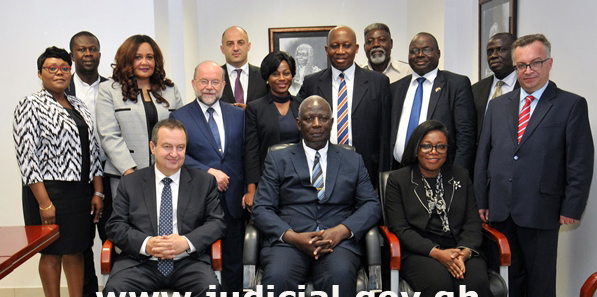 IT Training Key in e-Justice Delivery
A group photograph of some superior court judges, top Judicial Service staff and the Serbian officials
Justice Samuel K. Marful-Sau
of the Supreme Court has stressed the need for Ghana's judiciary to embrace the
changing trends in technology as far the court systems are concerned.
According to him,
Ghana's Judiciary cannot afford to be left behind in this electronic age, hence
the need to use technology to ensure speedily and efficient administration of
justice through the newly introduced e-Justice system.
Justice Marful-Sau, who
is also the Chairman of the e-Justice Steering Committee, made the call when a
delegation from Serbia, led by First Deputy Prime Minister and Minister for
Foreign Affairs, Ivica Dacic, called on officials of the Judicial Service in
Accra last week.
The Judicial Service, in
a press statement signed by the Judicial Service Director of Communications,
Grace Tagoe, said in a bid to expand the implementation of the e-Justice
project to meet international standards, it was exploring IT training
opportunities for selected judges and staff, particularly registrars in Serbia.
"This follows an early
six-week scholarship obtained for six judges to enhance proficiency in IT
Systems to facilitate the recently launched e-Justice project or the Paperless
Court System, which is currently running at the 44 high courts located in the
Law Court Complex building in Accra," the statement said.
Justice Marful-Sau, in
the statement, further requested for training for court registrars to
complement the efforts of the already trained judges.
"On behalf of the
Judicial Service of Ghana, I would like to use this opportunity to appeal for
further scholarships for our registrars as we expand on our e-Justice
programme. This is very dear to us. The whole world is going electronic and we
cannot be behind, but rather aspire to meet international standards," he added.
Trained Judges
Briefing the delegation
on the impact of training received in Serbia, a Justice of the Court of Appeal,
Justice Henry Kwofie, who led the beneficiary judges to Belgrade, described the
course held between January 31 and March 10, 2019, as very intensive and
interactive and made some recommendations to the leadership of the Judiciary
and the Judicial Service.
Areas of training, he said,
included 'Judicial Reform, ICT System for Justice Architecture, Network
Information Technology, Security Information Technologies, Project Management
and IT Auditing, Enterprise Information Technology, Computer-Human Interaction,
as well as Ethical and Legal Issues.'
Deepening Ties
The Judicial Secretary,
Cynthia Pamela Addo, for her part, was full of praise for the people of the
Republic of Serbia for offering scholarship to some Ghanaians, especially judges.
Speaking through an
interpreter, the Serbian delegation leader Mr. Dacic
indicated that the visit formed part of efforts 'to revive and renew our good
relations with Ghana, as we celebrate 60 years of the establishment of
diplomatic relations between Serbia and Ghana."
He was hopeful Ghana and Serbia would deepen cooperation in different sectors in the near future.
By Gibril Abdul Razak