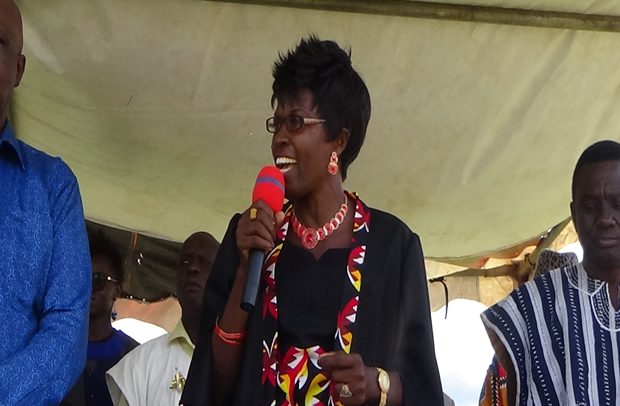 Juaso Senior High Technical Holds First Graduation
Nana Halm Markin
A durbar was organized at Juaso, the capital of Asante Akim South Municipality in the Ashanti Region to mark the maiden graduation since the schools inception 35 years ago.
The event which was at the instance of the head mistress of the school Nana Halm Markin, who was posted to the school about six months ago, was attended by important dignitaries including traditional leaders, politicians, heads of institutions within the municipality and the region.
The Ashanti Regional Director of Education, Mary Owusu Achiaw whose speech was read on her behalf by Asante Akim Municipal Director of Education, said "the development of every society is strongly built on good moral foundation, emotionally balanced citizens who are socially, physically, and spiritually active" and commended the headmistress and staff for imbibing in their students such moral values."
She said students must be trained to take up leadership positions adding that education is the most powerful instrument for reducing poverty and inequalities and for laying the basis to sustain economic growth for national transformation.
Mrs. Owusu Achiaw advised the youth to stay away from drugs, alcoholism, promiscuity, occultism and all other forms of indiscipline.
Mrs Markin, in her speech enumerated some achievement chalked some few months when she took over the administration. These she said included changing the school's environment, organizing other programmes to support teaching and learning and challenging students and teachers for excellent academic results as the record of examination outcome in the school was nothing to write about.
The headmistress appealed to the government, indigenes of Juaso, NGO's and philanthropists to come to the aid of the school.
Mr. Linux Bukari, a former director at the Ejisu Juaben Minucipal directorate of education who also spoke at the function entreated parents to invest in the education of their children follow their progress.
The chairman for the occasion was Samuel York Aidoo, former Director of Elections at the Electoral Commission congratulated the grandaunts and encouraged them to be of good behavior wherever they would be.