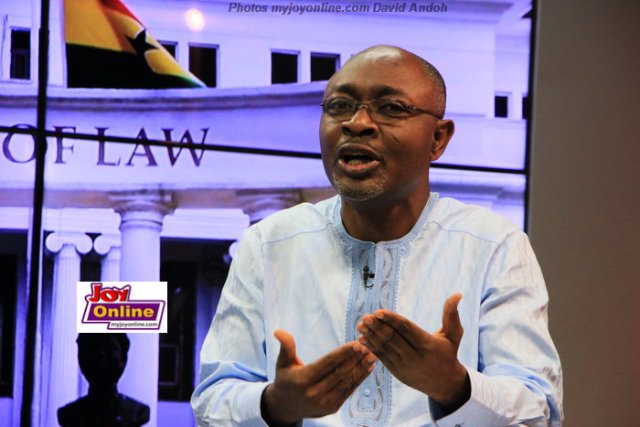 Law professor, Peter Atupaare, wants under-pressure businessman, Alfred Agbesi Woyome, to be acknowledged for his role in strengthening the country's laws.
He noted that Mr Woyome's resilience and determination to ensure the state did not trample on his rights in a case in which he was accused of unjustifiably taking ¢51.2 million from the state. 
The senior lecturer at the University of Ghana's Law School said the businessman pushing the case all the way to the African Court of Human and People's Rights, has helped in entrenching the rule of law.
ALSO: Photos: NPP's Bugri Naabu enskinned chief of Namong
The judgement delivered by the African Court which affirmed the Supreme Court ruling giving greenlight for the state to sell Mr Woyome's properties to defray the debt owed the state, "is a kind of confidence in our judicial system," he noted Saturday.
"We celebrate both of them and we thank him [Woyome] for helping us build the law, travelling all the way to the African Court," he said on Newsfile on JoyNews TV.
Dr. Peter Atupaare
The Monyoro Chief in the Upper East region also commended government for not deploying its "naked power" to push its interest in the case but ensured the full legal procedures were followed.
ALSO: Photos+Audio: Man, 38, found dead at Kasoa Budumburam
"In that sense, we must celebrate both of them that we have not gone back to days when the state thinks that we have the security apparatus at our disposal an as an individual can bulldoze our ways all the way through," he said.
The lecturer further singles out for praise, former Attorney-General, Martin Amidu, now Special Prosecutor, who single-handedly initiated the court process to ensure the businessman refunded the money wrongfully paid to him.
The state is now the beneficiary of the brave act of the man who prefers to be called 'Citizen Vigilante'.
"Martin Amidu's conduct must be praised. It's part of individual bravery in dealing with the enforcement of laws of the country…" Dr Atupaare added.
Background
Embattled businessman, Mr Agbesi Woyome, who risks losing assets worth about GH¢20 million to defray part of the GH¢47.2 million he owes the state, says he is ready to negotiate with the government on a payment schedule.
ALSO: Court ruling against Woyome a victory for us – John Boadu (Audio)
A three-year legal battle over the true ownership of properties in the case involving Mr Woyome was settled last Thursday when the Supreme Court ordered the sale of the assets to defray the GH¢47.2 million debt he owes the state.
Assets to be sold include two mansions at Trassaco Estate, a house at Kpehe where he resides, an office complex of Anator Holdings, a residential building at Abelemkpe and a stone quarry in the Eastern region, including its plants and equipment.
Source: Myjoyonline.com