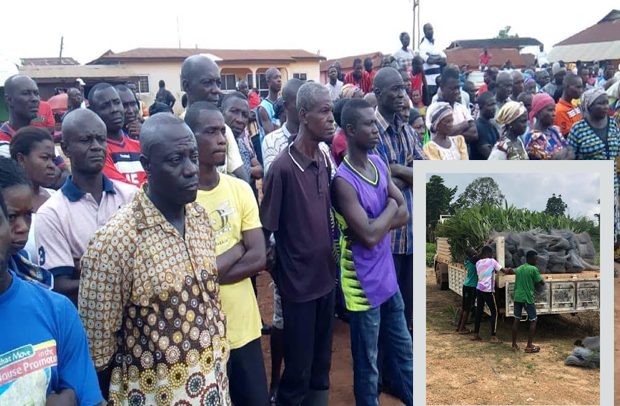 Kade Farmers Get Free Palm Seedlings
A section of the farmers. INSET: The seedlings being offloaded
The Ministry of Lands and Natural Resources through the Minerals Development Fund (MDF) has distributed over 7,000 palm seedlings to farmers in the Kwaebibirm Municipality of the Eastern Region.
The distribution was done for the members of Artisanal Oil Palm Milers Association under the Alternative Livelihood Programme (ALP) for the 2019 planting season.
The ALP is one of the priority initiatives of the government which sought to provide oil palm seedlings to farmers in mining communities in order to discourage illegal mining and provide sustainable livelihoods in mining prone communities.
A representative from the ministry who supervised the distribution said the government is committed to ensuring farmers get the needed help to improve on their standard of living.
He said the fight against illegal mining is on course and those engaged in the activity are being encouraged to switch to farming which he said would ensure sustainable development.
Some of the beneficiaries praised the effort of the government for the gesture and pledged their support to sustain the project.
Osafo Appau, a beneficiary said the government was doing the right thing since it is going to serve as an avenue for job creation.
Kwame Isaac, another beneficiary said the area is noted for producing oil palm and urged the government to distribute more seedlings to ensure sustenance of the oil palm business.
Chief of Akyem Asoum, Osaberima Ofosuhene Appenteng on his side said it was a right decision to assist farmers and pledged that the traditional authority would collaborate with the government to ensure more people go into farming.
He advised the people to take advantage of the initiative to make a meaningful living.
From Daniel Bampoe, Akyem – Asuom