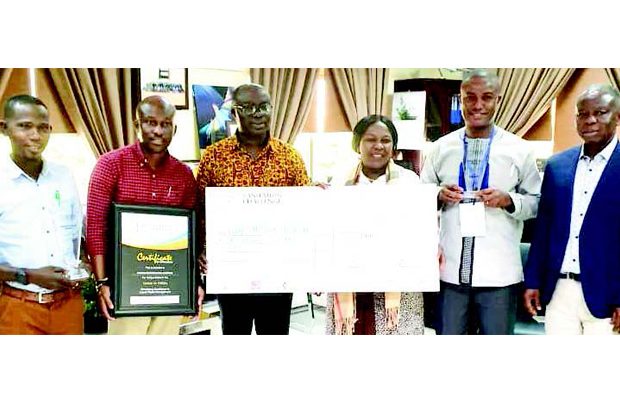 KMA Wins £400,000 Sanitation Prize
Minister of Sanitation Cecilia Abena Dapaah (3rd right) with KMA Boss Osei Assibey-Antwi (3rd left) and others after the presentation
KUMASI METROPOLITAN Assembly (KMA) is the proud winner of a staggering £400,000 cash prize, for excelling at the 'Sanitation Challenge for Ghana' contest.
The competition was mainly to determine which metropolitan, municipal and district assembly (MMDA) in the country was implementing modern and innovative strategies in solving liquid waste problems.
Funded by the UKAID, virtually all the MMDAs in the country were eligible to participate in the competition.
Nanumba North Municipal Assembly took home £280,000; Afutu Municipal Assembly with £250,000; Sekondi-Takoradi Metropolitan Assembly and Kwahu East District Assembly had £150,000.
The competition started in 2015 with 128 MMDAs submitting their proposals and after some analyses were made, 48 MMDAs were shortlisted for stage-two of the contest.
After several rounds of the competition, the number of the MMDAs that were competing for top prize was cut down to 15 in the final-stage for another assessment.
The KMA, headed by Osei Assibey-Antwi, eventually emerged as winners during a colourful ceremony in Accra on Wednesday.
The whopping £400,000 cash prize is to enable the KMA to continue to implement more sanitation-related programmes to help improve the lives of the people.
The 'Sanitation Challenge for Ghana' contest was themed: 'Rewarding Excellence Liquid Waste Management, a Contest for MMDAs and Private Partners'.
Significantly, the KMA's sanitation partners, who also competed for top honours in other categories of the competition, also emerged as winners in their own rights.
They included the Clean Team Ghana Limited, TriMark Aquaculture Centre and Training Research and Networking for Development (TREND).
The KMA boss, who was highly elated after winning the maiden contest, lauded the organisers "for having passion for sanitation issues."
Besides, he applauded the staff of KMA and the private firms, which acted as partners of the assembly, for contributing to help the KMA to achieve such a feat.
Mr. Assibey-Antwi stated that the assembly would not become swollen headed after winning the competition; he promised to sustain the momentum to keep Kumasi clean.
The KMA boss, on behalf of the assembly, promised to use the cash prize to further improve liquid sanitation issues in the metropolis.
The Sanitation Challenge for Ghana Competition is a UKAID funded project, which is implemented by IMC Worldwide and IRC Ghana.
It is basically aimed at creating competition among all the MMDAs to design and implement innovative strategies in solving liquid waste issues in Ghana.
FROM I.F. Joe Awuah Jnr., Kumasi