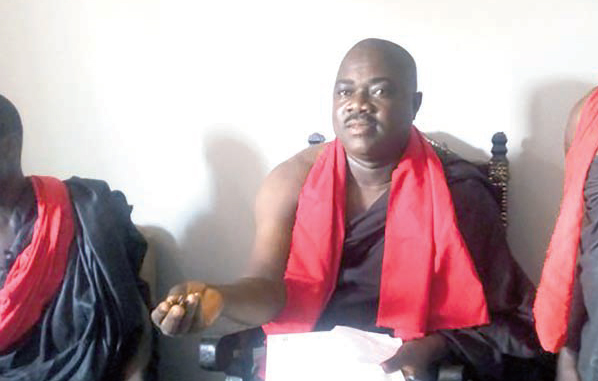 Kpenoe Chiefs Demand Shooting Range Relocation
Togbe Kotoku XI displaying some of the empty shells
The chiefs and people of Kpenoe
Traditional Area under the Asogli State in the Ho Municipality of the Volta
Region have called for the relocation of a shooting range of the 66 Artillery
Regiment.
The residents claim stray bullets
enter their houses from the shooting range and that is putting fear into them.
According to the Paramount Chief of
the area, Togbe Kotoku XI, the manner in which the military officers conduct
their shooting activities on their land continuously put their lives at risk.
Speaking at a press conference on
Tuesday, the chief called on the relevant authorities to meet their demands to
avert any unfortunate happenings in future.
"Bullets fly into the community
without any information and this is relatively unsafe for us and we feel our
lives are in danger."
He told the media that "these very
bullets were picked from the community. This is not a bullet of single barrel
but a bullet coming from the military range. Our lives are not safe and for
that matter, we're requesting that the shooting range be relocated."
Togbe Kotoku also complained about the
encroachment of the lands of the community by the military.
According to him, the military has
extended the boundaries of a 483.34-acre land given to government some 50 years
ago to about 1,000 acres.
According to the chiefs, the land,
which was previously used to cultivate cocoa, coffee and other cash crops, was
taken over by government without any proper compensation.
He added that the military had
erected boundary poles to cover over 1,000 acres without further discussions
with the chiefs and people of the area.
"This has deprived my people,
especially the youth, of farmland which has forced them to go in there to crack
stones to earn a living."
The military is yet to respond to the accusations of the chief.
From Fred Duodu, Ho (k.duodu@yahoo.com