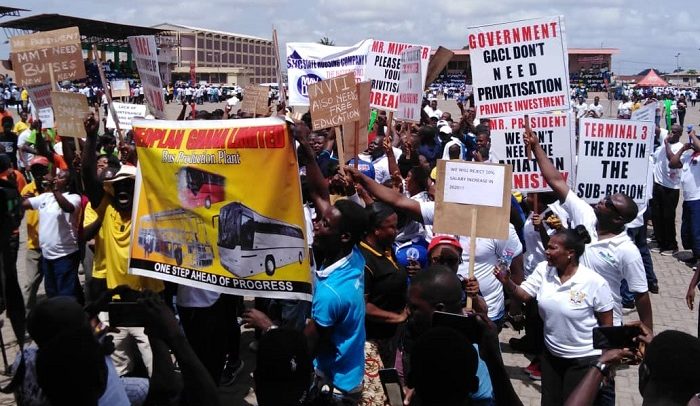 K'si Mayor Woos Workers
Some workers at the function
Workers in the country have
been admonished to play a leading role to help government to achieve its 'Ghana
Beyond Aid' agenda.
This would go long way to
help expedite the developmental of the country and also boost Ghana's economy.
The Kumasi Mayor, Osei
Assibey Antwi, disclosed this to workers during this year's May Day celebration
at the Jubilee Park in Kumasi.
Under the theme, 'Sustainable
Pension for all, the role of Social Partners,' the event saw many workers
marching gallantly.
According to Mr. Osei Assibey
Antwi, the 'Ghana Beyond Aid' vision is attainable if workers commit themselves
and play their roles.
"Let me take this opportunity
to remind you that as workers, you are the lifeblood of Ghana's economy since
there is correlation between productivity and nation's wealth.
"With your diverse expertise,
commitment and hard work, I strongly believe that 'Ghana Beyond Aid' vision is
achievable," the Kumasi Mayor added.
He said, "Let's work together
with a common objective to achieve this vision, which is an ingredient for
better working conditions, as well as sustainable pension scheme for all."
The Kumasi Mayor announced
that the KMA had planted 938,000 seedlings of different species, both exotic
and indigenous, as part of KMA's Keep Kumasi Clean and Green Project.
Mr. Osei Assibey charged the residents to help restore the Garden City to its past glory, adding that Kumasi has the ability to become greener again.
From I.F. Joe Awuah Jnr.,Kumasi