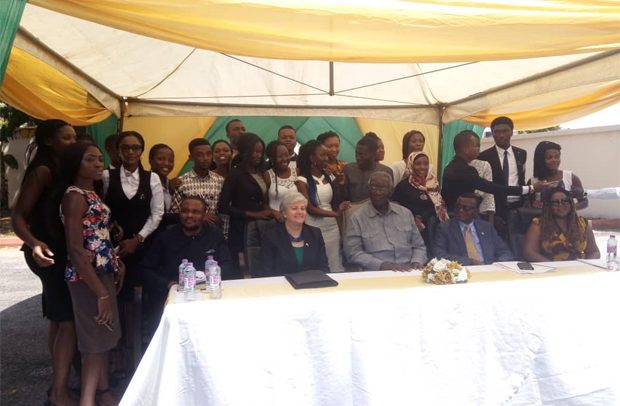 Kufuor Foundation Holds 4th Induction, 2nd Graduation
Mr. Kufuor and Ambassador Sullivan in a pose with the class of 2022 after the ceremony
The John Agyekum Kufuor (JAK) Foundation has simultaneously held its fourth Induction and second graduation ceremony.
The ceremony held at the forecourt of the Foundation Office in Cantonment on Monday, September 23, 2019, had a total of 25 students being inducted into the Kufuor Scholars Programme.
The 25 students are part of the class of 2022 and were part of 2,000 students who applied initially for the programme from various universities across the country.
Others graduated from the three years programme on the same day.
The journey of the 2019 graduating class started in April 2017.
As a way of thanking the Foundation for the training they have received, the 2019 graduating class donated a sum of GH¢ 40,000 to the JAK Foundation.
The Kufuor Scholars Program (KSP) is one of the key initiatives of the John A. Kufuor Foundation.
The Initiative is strategically underpinned by the principles of the leadership development commitment of the Foundation.
Speaking at the ceremony, US Ambassador to Ghana, Stephanie Sullivan, described the scholars as the future leaders of Ghana.
She urged them to make the most out of the scholars programme and never to give up in the face of adversity, saying "cultivate resilience."
Empowering youth, she said, was at the heart of the United States partnership with Africa.
She encouraged them to pursue their higher education in the United States.
Former President Kufuor, who presided over the induction and graduation ceremony, congratulated the inductees and graduands.
He told the graduands to ensure that good and effective leaders should take charge of Africa and Ghana.
"Respect authority irrespective of your position in life," he told them, adding that "humility will take you places."
He pledged to monitor their progress as they enter the second phase of their lives.
The Kufuor Scholars Program has been established to serve as the vehicle for preparing and grooming young people of today to become transformational leaders of tomorrow for Ghana and Africa.
Prospective scholars are usually selected from universities and other learning Institutions across Ghana.
However, this year, one student from United States joined the programme.
The Kufuor Scholar is expected to place high premium on the following values: integrity, honesty, patriotism, nationalism, and commitment to ethical behavior at all times.
BY Melvin Tarlue